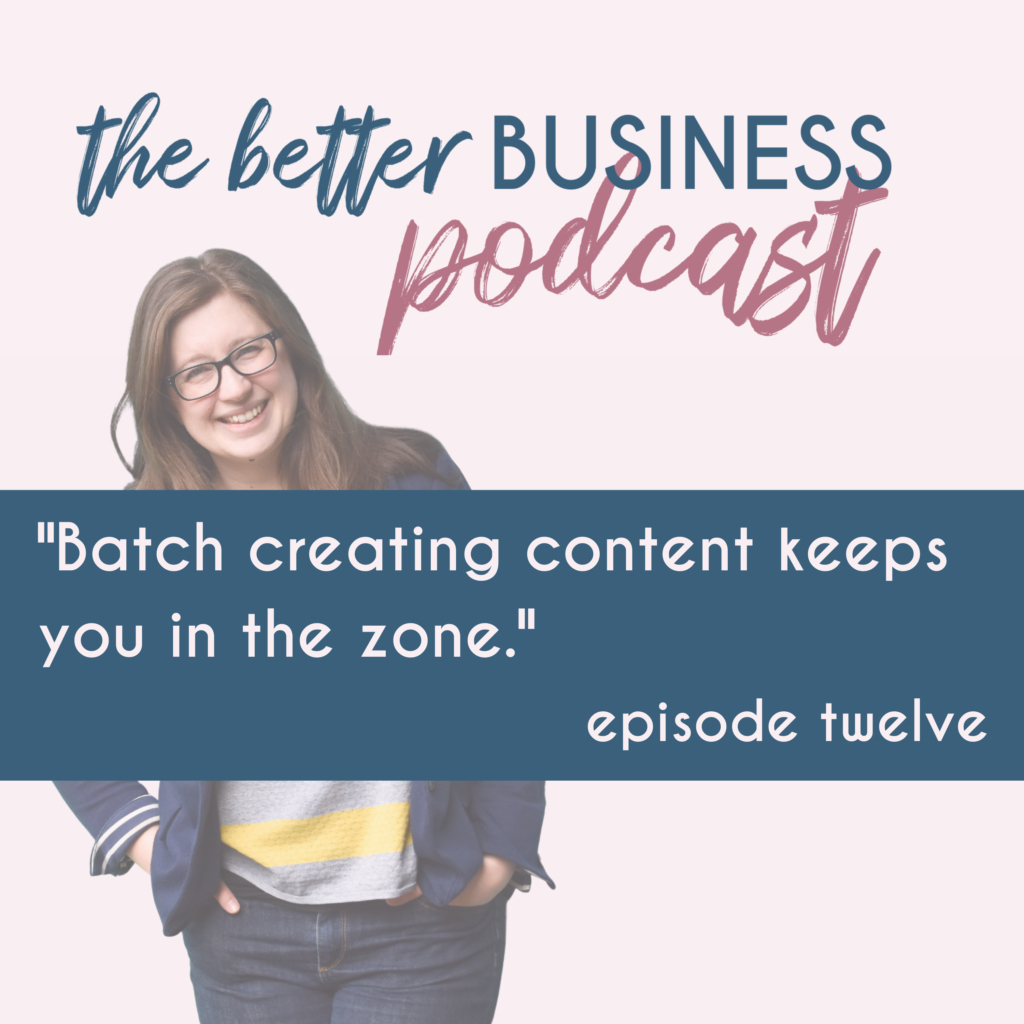 Learn how to batch create content all year round, but with a specific focus on Christmas preparation for your online shop.
Get ahead for Christmas NOW – and thank me later
Since about mid-May, I've been embarrassing myself on the internet by talking about something no-one wants to think about: Christmas.
I know. You only just got over the last one. It's the summer holidays, and you just want to enjoy it. And there are a million things on your to-do list that are more urgent.
I get it. But with 12 years of online retail work, I know that Christmas is SO IMPORTANT. I can't even tell you how important. REALLY IMPORTANT.
So important that I'm continuing to embarrass myself by bringing it up several times a week.
If you would like a Christmas that brings in the revenue and profit you want, and includes zero burnout, you're in the right place. And I applaud you for being here!
Let's talk about one of the biggest pieces of the puzzle when it comes to getting ahead: Marketing Content.
Picture this:
It's mid-November, and orders are starting to increase. You're busy packing things up, managing your team, and making sure everything's running smoothly. As you finish up your day, you feel like there's something you should be doing, something that you've forgotten. It's all felt a bit too easy… surely there's something you've let slip.
And then you realise: in the past, you've had to quickly write a few social media posts at the end of the day because you haven't got anything scheduled. Normally, you'd be scrolling and panic posting, hoping that you'd get more sales to cover the cost of the assistant who just started.
This time, it's different. You've already got your weekly email newsletters going out, as well as social media posts scheduled, and a list of stories to post, too. There's nothing you actually need to do. You know your customers, you've got great content, and so you can wrap up on time, without working into the evening.
You smile. In fact, you feel so good that you even post a quick selfie as you end your day and post it to your stories, because you're so grateful for all the orders you're getting already!
Can we talk about the ease, relief, and confidence of that picture? Doesn't it sound really good?
Before you start thinking, "that's not possible for me", or "Jenny's living in cloud cuckoo land", let me tell you: THIS IS POSSIBLE FOR YOU.
Yep, you.
But you need to start NOW.
Now is the time to get ahead by creating content and scheduling it, piece by piece.
What is batch creating content?
When I talk about batch creating content, I'm talking about sitting down to create a whole series of marketing content in one go, and then scheduling it to be released later.
There are a few reasons why this works:
It keeps you focused – when you're in marketing mode, it's easier to create content that's cohesive and on point
You can get in the zone – set the intention to get in your ideal customer's head and create the content that's going to help and inspire them
You can work on pieces that work together
It makes you more efficient
You'll get more done in one go than you would doing it in bits
You get ahead, which adds to your sense of confidence, ease, and calm
Booking an afternoon purely to work on your Christmas marketing content will feel uncomfortable, and you'll need to put other things to one side. But it will make a huge difference to your success levels in the next six months.
How do we batch create content?
So, it sounds great. But let's talk about how to batch create your Christmas content.
Step one: make time. You need a morning or an afternoon to really get in the zone and make progress.
Step two: bring your ideal customer to mind. Whether you've got a customer profile you already work with, or are thinking about this for the first time, spend a few minutes thinking about your ideal customer, what they are inspired by, and how you can help them.
Step three: brainstorm some ideas on how you could inspire, educate, entertain, or solve the problems of your ideal customer.
Step four: take the ideas and work them into blog posts, emails, social media posts etc. You can repeat ideas across different formats.
That's the basis of batch creating content.
Here are my bespoke tips for Christmas content:
Start with the content you find easiest, so if you find it really easy to create your product-based posts, start there. If you find it easy to write inspiring tips or create videos, work on that first. Get in the flow, and then fill out the other areas.
Typically, it's easiest to start at the end and work backwards. Many of my clients start with the "last chance" content you need towards the end of December. If that's you, write the last chance email, create graphics of your last order dates that you can share in your social media feed and stories, and make sure you have reminders for a week or so before your last order date.
*It's okay if you don't know exactly when this will be yet. Get it ready to go, and schedule it when you're ready!
Similarly, you can decide on your Black Friday offer now, and create the content for that, too. Black Friday is 26 November this year. You don't have to do a discount, you could do free delivery over a certain amount, or a free gift with orders placed. Or simply expect more sales that weekend, because it's payday before Christmas.
Whatever you choose to do, create the content for it! Write the content that introduces the offer, reminds customers of the offer, and then has the "last chance" message.
Other types of posts you can batch create:
Product features: take photos and videos of different elements of your products, and use your product description to help you write your captions. Schedule at least 3 a week from mid-October to your last order date. And don't forget to use BUY NOW or SHOP NOW.
Service features: you already do an amazing job for your customers, so shout about it! Remind them that you have express delivery, gift wrap available, send direct options, personalisation choices, and more. Create posts that show these extra features.
Marketing emails: I love email marketing for product-based businesses! So powerful. Write an email a week from about mid-October (and thank me later). They don't need to be complicated, just weekly reminders of who you are, what you make, and how you can help your customers.
Tips + inspiration: You're really wise and creative. Share it with your customers! You could give them tips on decorating for Christmas, activities to do with their friends and family, how to make a Christmas sweet treat that's low effort… Lean into your own area of expertise, and what your audience cares about.
Reminder: you don't need to do all these things in one go! Start with the easiest one for you, and start getting that gorgeous, magnetic, effective content done ahead of time.
Two super-powerful resources for you:
I know it's not easy to keep everything in your head, so I made a free Christmas Checklist for you.
It has everything from content to create about your products (like photos and descriptions for your listings), to how to prepare your studio. I even made a big old list of marketing content to create and schedule.
​>>> DOWNLOAD THE FREE CHECKLIST
I've made a seriously accessible version of the Better Christmas Plan available, with extra resources and the option to add fortnightly reminder emails with timely tips from me.
It's just £37 and includes new recordings of the 5 workshops, plus extra checklists, a self-care worksheet, affirmation downloads, and lots more.
​>>> GET INSTANT AND UNLIMITED ACCESS NOW
They'll help you to batch create your content, before September even arrives.
Here's to that calm, organised, and ease-filled Christmas!