Testimonials
"I've changed my whole business on the inside, and it's something I'm really happy with and feel in control of"
- Gilly, founder at ekawear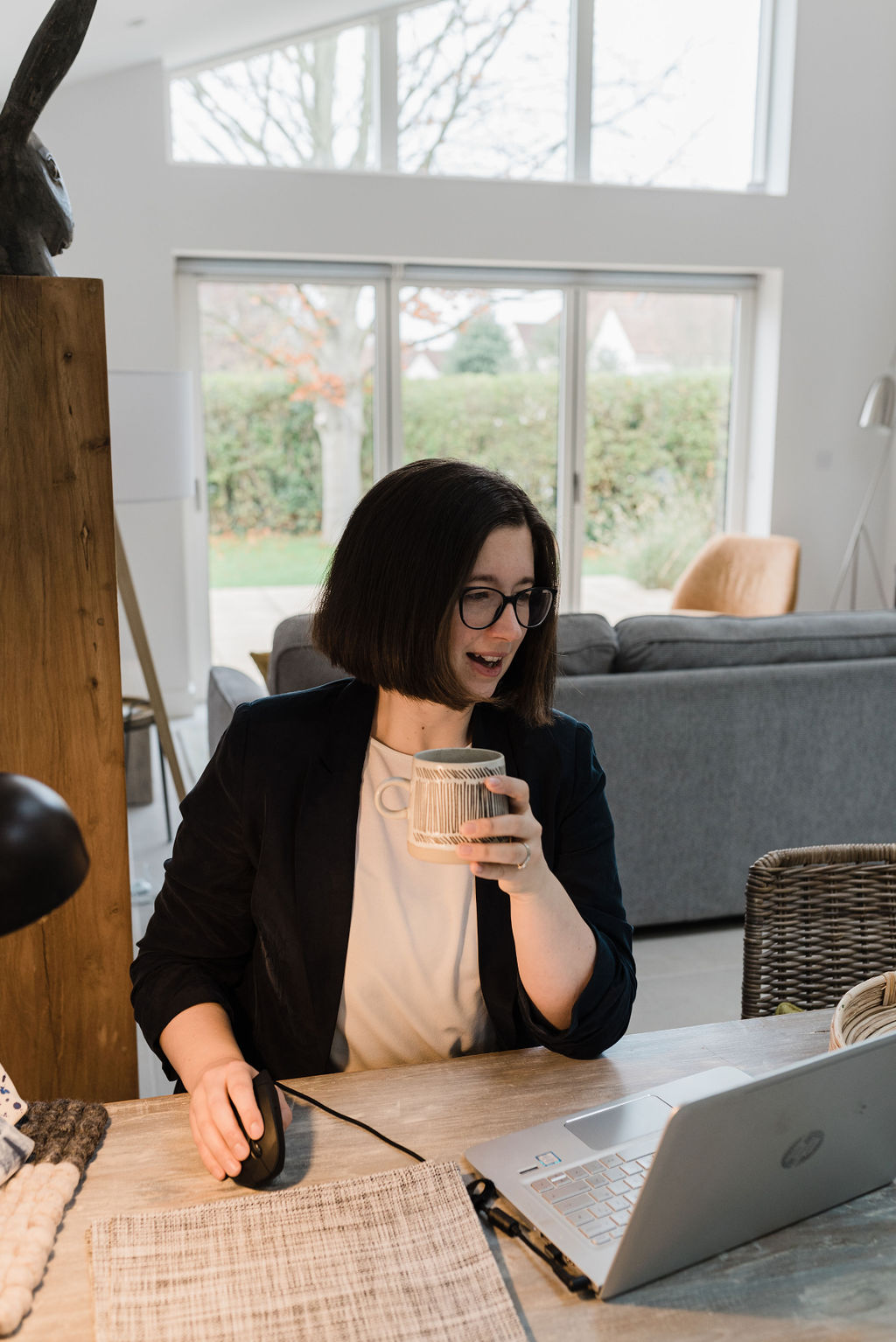 I'm so happy you've found yourself here and I'm wondering…
Are you tired of figuring things out on your own and second guessing yourself?
Always feeling like you could be doing so much more on your business, even though you never seem to have any time.
You've probably signed up for countless free trainings and downloaded I-don't-know-how-many PDF guides.
And sometimes, all the marketing and business advice out there can feel like A LOT. 
A lot to take in, a lot of time needed - a lot taking you away from what you really love to do.

The last thing you want is to stretch yourself even more thinly and waste your time on tasks that aren't making your business more profitable or creatively enriching.
More than anything, you want a business with strong foundations, that's thriving and working on your own terms, but it just hasn't quite happened yet.
You don't have to do it alone…
Hi, I'm Jenny!

I spend my days giving talented women like you the courage and tools to forge your own path to meaningful success.
As a business coach with a background in creative writing and former career at notonthehighstreet.com, I have a unique skill set that's tailor made for creative founders selling products or providing services.
And I believe you deserve a business that sustains you financially and creatively. 
The key? Bringing your head and heart into alignment. AKA Savvy business strategy driven by the confidence that comes from being true to yourself.
Because when you build a business that's healthy and robust on the inside, it supports your creativity and enriches your bank account.
Forget quick fixes and shiny object syndrome, I'm here for the strong foundations, deep and meaningful clarity, and taking consistent, change-making action.
Testimonials
"Jenny is so thorough and the absolute IDEAL mix of practical and woo for me. She has helped me make BIG changes to my business already and, crucially, given me a bit of my mojo back."
- Lucy Lucraft, podcast producer

A membership group for makers and solopreneurs ready to strengthen their business from the inside out.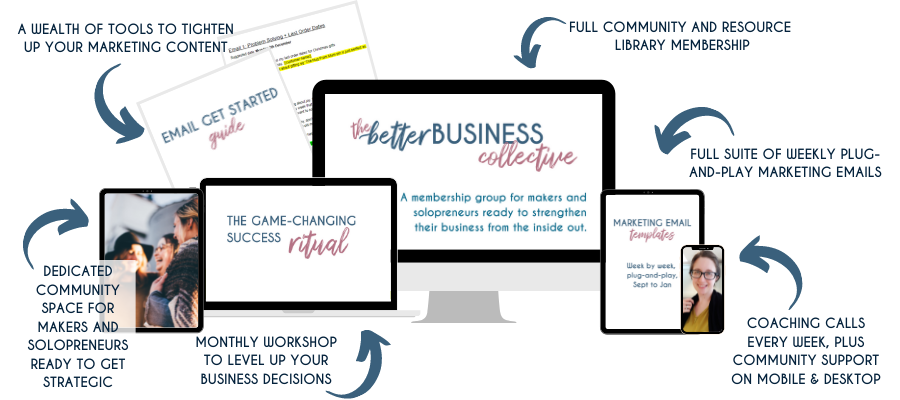 All the trainings, templates, and support you could possibly need to give you the structure and focus to create a business and life in flow - filled with purpose, direction, and the confidence to define your own idea of success.
Here's what makes The Better Business Collective different
1
It gets you taking action
and
making sustainable changes
You'll find templates and tools to get you unstuck fast, nestled alongside live workshops that help you create and work towards a bigger vision for your business.
2
It's specifically for creatives with products or services to sell
Think: down to earth, easy to understand, and all about reinforcing that brilliant creative side you have with practical business strategy that makes the most sense for you.
3
It's not just about marketing and business skills
There's a whole lot of self-development and community baked in too. Because a supportive environment to work on yourself means you'll thrive in business too.
Testimonials
"The Collective gives a sense of focus and structure to my business, confidence to my business decisions, a sense of balance to my work life, and connection to small creative business owners."
- Wendy, red brick glass
Imagine kicking that "I don't know what the heck I'm doing" feeling to the curb and…
Knowing that the tasks you're doing are moving your business forwards
Having more time to work in your zone of genius
Feeling like you're not doing this all alone – and having people to turn to who 'get it'
Seeing sales coming through your website regularly from a loyal and passionate customer base
Not burying your head in the sand when it comes to numbers and metrics
Feeling truly successful in a meaningful way with lots more joy and less struggle
Getting to spend more time with family because you're working smarter, not harder

These core elements inside The Collective will get you there:
The Game-Changing Success Ritual
Because 'monthly review' simply doesn't do this supercharged, magical, and FUN experience justice!
Meet with me and the whole community every month in a two-part ritual to balance head and heart: one to gather your end-of-month data, and the second to reflect and set intentions to cultivate your growth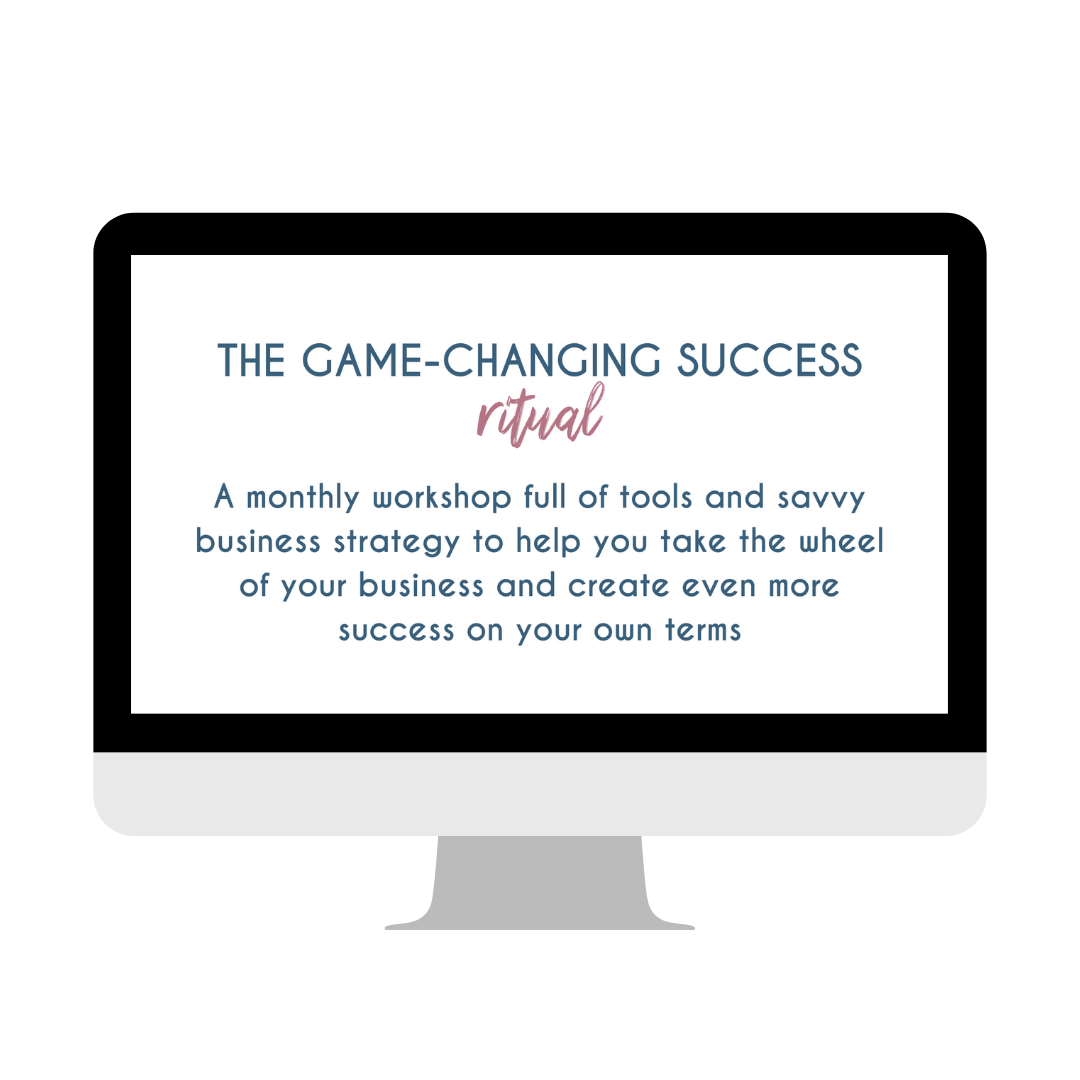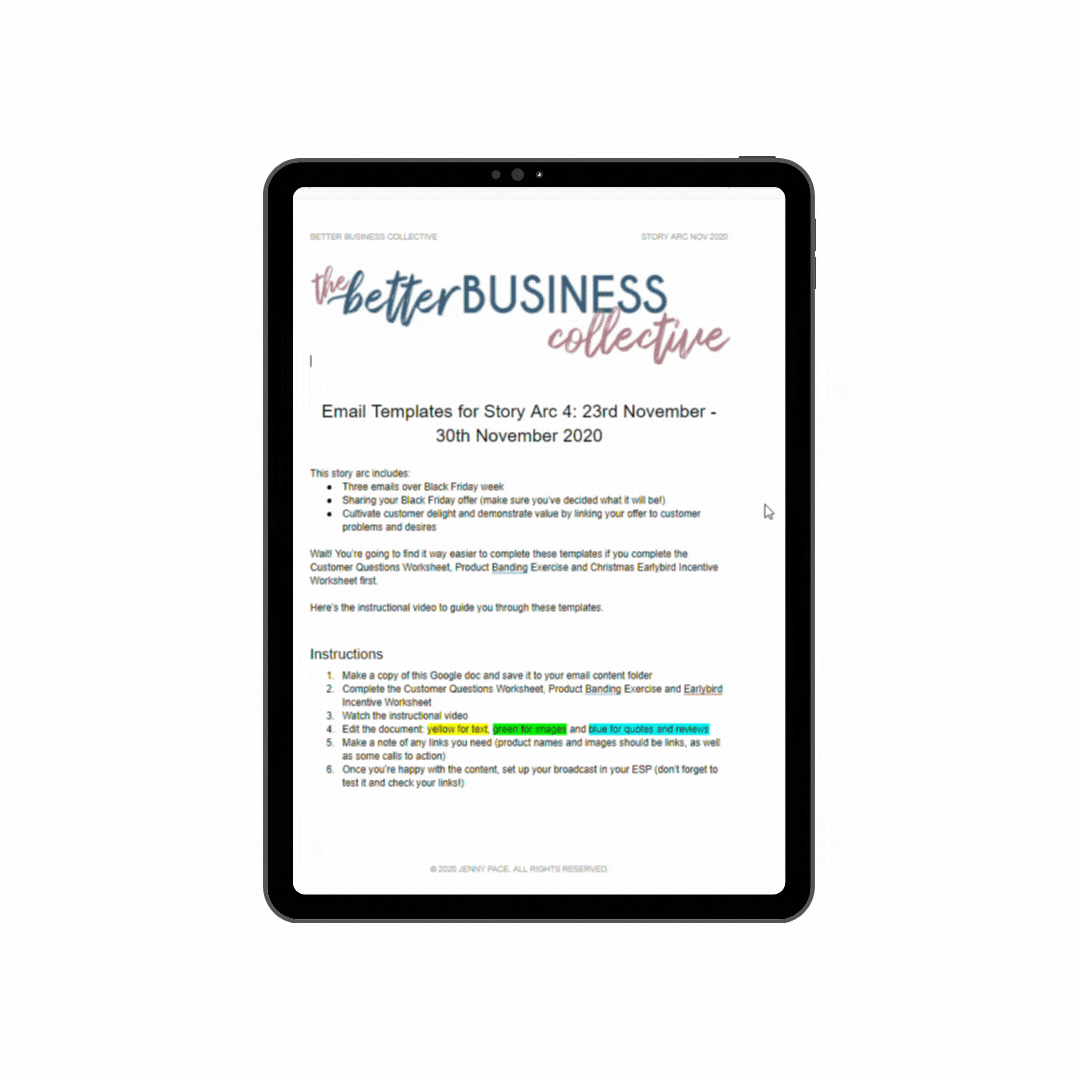 Email Templates & Marketing Calendar
Level up your email marketing, whether you're just getting started, need to get more consistent, or are ready to increase sales with more ease.
Your new secret weapons: over 25 templates (plus loads more ideas for you to use!) to schedule an entire season of weekly emails, and create a unique-to-you marketing plan each month in the Marketing Glow Up live workshop
The Better Business Collective Online Community
Connect with like-minded creatives who are also committed to growing their business authentically and sustainably.
Stay accountable and motivated with weekly space to identify your focus and cheer each other on. Ask questions, get feedback, find recommendations from other creative business owners, as well as me. Plus, a dedicated Mighty Networks app so you can keep your focus in your pocket, and listen to recordings on the go!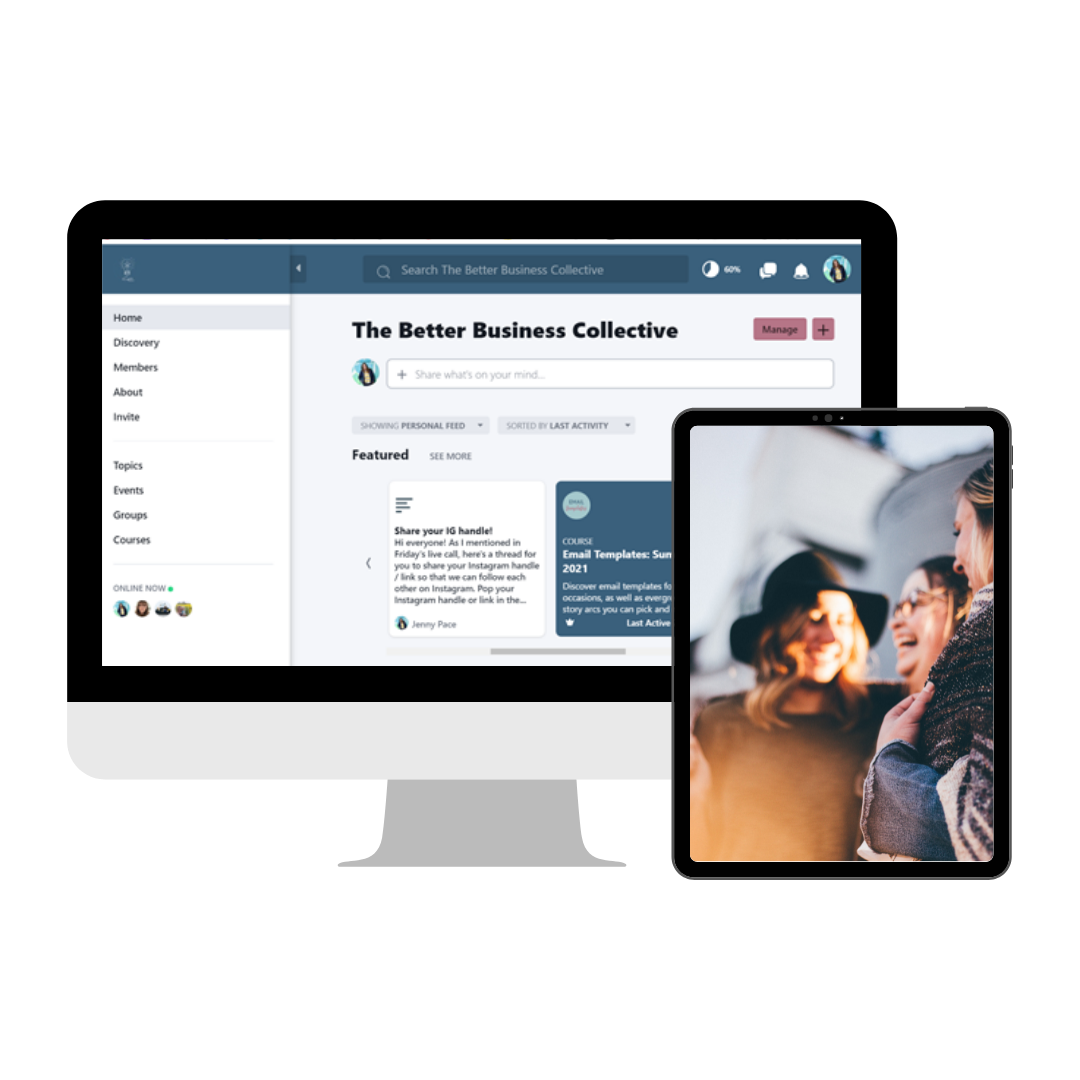 Open Office Hours & Tech Support (£350 value)
Join regular open office hours live calls to get feedback, coaching, and support (these calls are available to drop in nearly every Friday)
Get dedicated tech support with my in-house tech whizz, Kelly Harcus, who is on-hand for any technical glitches with emails and websites
Discover answers you didn't know you needed with others' questions and support requests
Pricing For Profit Mini Course (£97 value)
Take the guesswork out of pricing your products once and for all with this mini course for makers and small retailers
Use the pricing template to keep track of your product prices and profit margins
Gain pricing skills for life - every time you create a new offering or go up a level
Masterclasses & Recordings Library (£500+ value)
Monthly masterclasses to boost your business skills
Join live masterclasses and access the resource library to catch up with previous seasons' recordings
Topics include: Facebook + IG Ads, Using Pinterest For Your Business, How To Batch Create Content, Money Mindset, and Seasonal Planning Workshops
When you add it all up with what's also included in The Better Business Collective, that's a value of over £1,500...
But you can access it for just £97!
Testimonials
"I have gained more confidence in my business decisions and it is resulting in some fantastic sales figures, whilst also helping me build the business I want it to be in the long term."
- Laura, founder at Louy Magroos
A reminder of everything you'll get access to: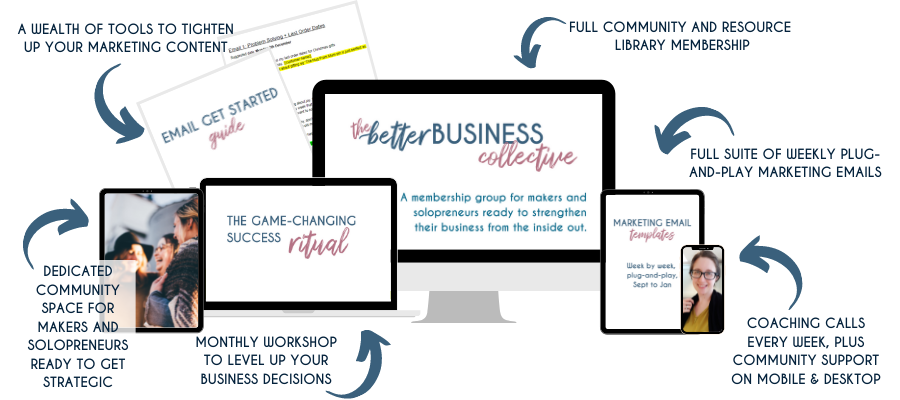 Email content for 12

months and beyond thanks to the email template library, complete with video guides and the full suite of template plug-and-play emails

Create and implement your Game-Changing Success Ritual with both a recorded workshop and live workshops to change your business destiny

Access to the exclusive Better Business Collective online community (hosted on Mighty Networks - NOT Facebook)

Live workshops and recordings of sessions to catch up on in your own time

PLUS: Open office hours and tech support to get personal feedback and avoid wasting time fixing tech glitches

PLUS: Pricing For Profit Mini Course to ensure your profit margins are baked into your business

PLUS: Monthly masterclasses, including new content for this season, and the full recording library of past sessions
So, are you ready to stop winging it alone and start strengthening you and your business from the inside out?
Testimonials
"I'm filled to the brim with energy and inspiration having looked at where I am, where I want to be and how I'm going to get there." Gilly, founder at ekawear.com