Ready to stop feeling behind and start making more sales?
This is where it all begins...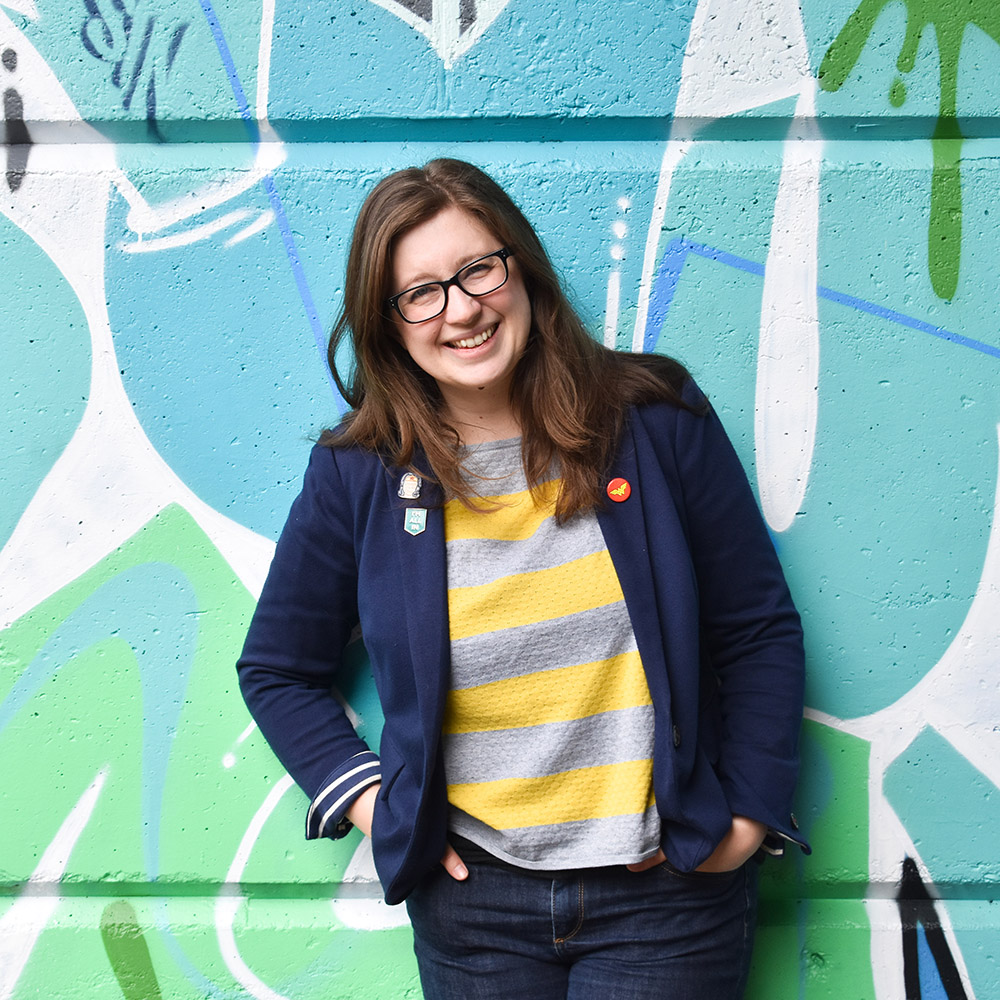 The Valentine's Day Launch Plan helps you to STOP feeling behind in your business and gets you READY for an organised, profitable start to the retail year.
"I really regret getting ahead and feeling organised," said no-one. Ever.
You never quite feel on top of the gifting occasions. Christmas creeps up on you, and you don't have everything ready - at least not all the things you hoped.
You're still creating marketing posts as you go, relying purely on social media (and not your small but dedicated newsletter list), and you're just about getting by.
You think I'm slightly bonkers to even try to talk to you about Valentine's Day before 31 December, because it's Christmas madness season!
And you have no idea how to break the cycle of catch up.
Wouldn't it be great if...
You could start 2021 feeling totally on top of the retail calendar?
You had a really clear idea of what you need to do and when in order to get Valentine's Day sales?
You could cut out the overwhelm and start seeing results?

Testimonials
"WOW! You have the e-mails ready to send, my calendar sorted out and how I should be approaching what products to launch (which I am already formulating in my head) so by the time it comes round to making them I will have the ideas/products, a timeline for launching and successfully backing that up with my emails and socials." Hayley, Laced Wing Designs
"I love the checklists, the ideas to update things like the Facebook banner. These are things I "know I should" but always get shoved down the list and never done." Gilly, founder at ekawear and member of The Better Business Collective
"This has really helped me focus." Kathryn, previous course taker
"To be honest, I thought this was too simple to work. This list has just changed everything!" - Wendy, founder Red Brick Glass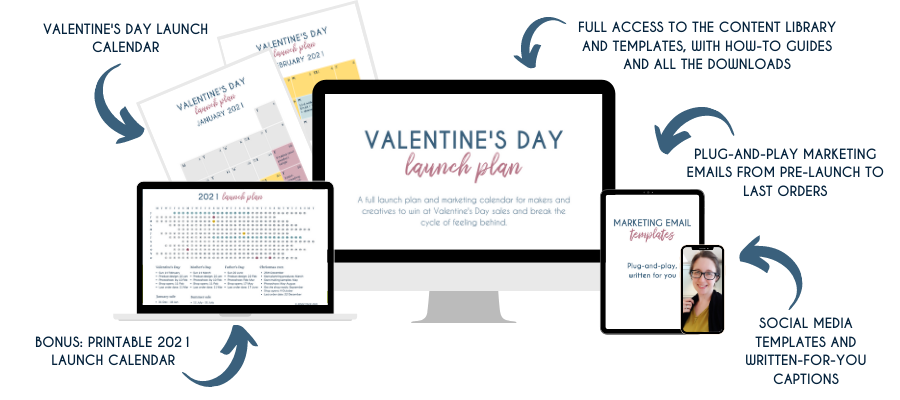 THE VALENTINE'S DAY COUNTDOWN CALENDAR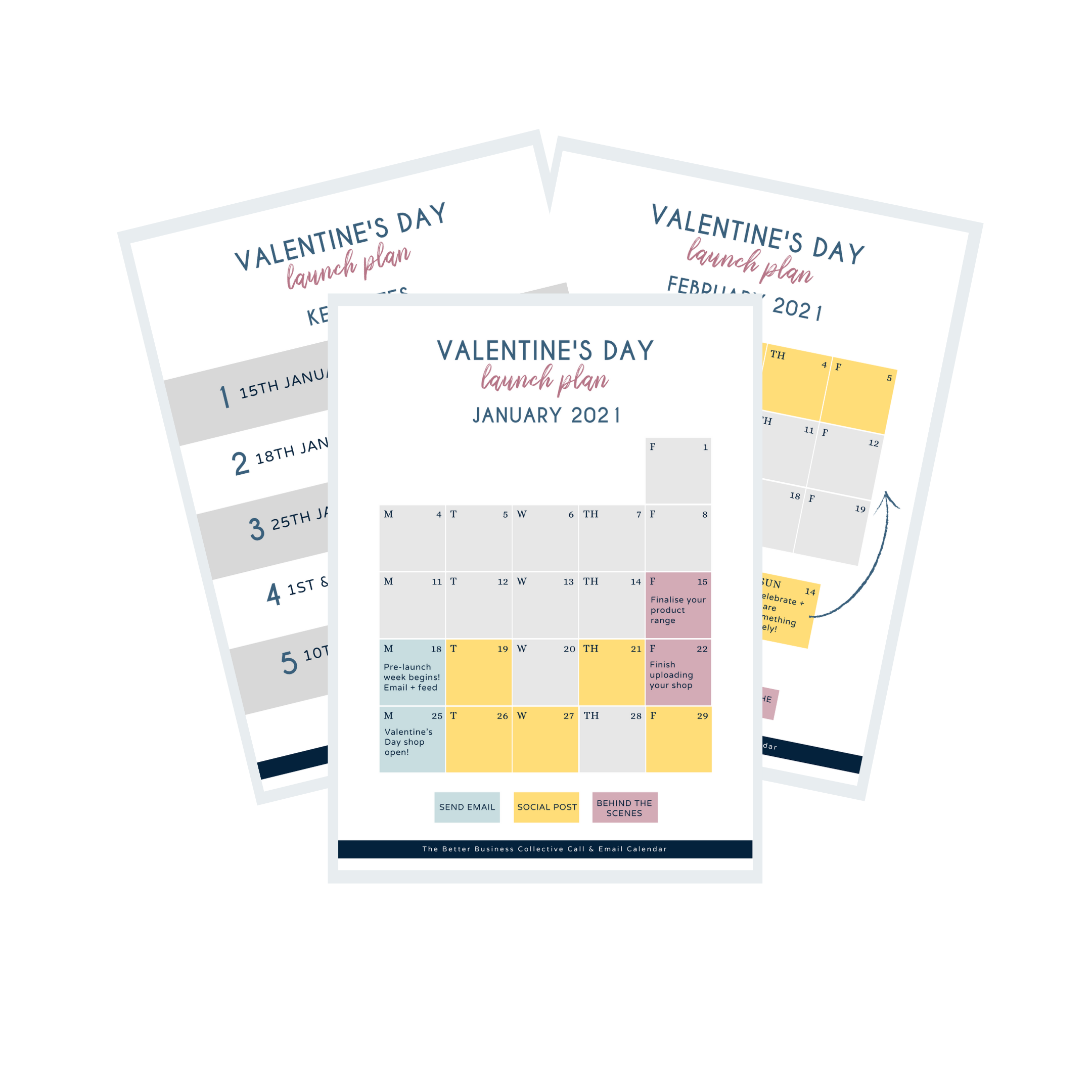 Remove overwhelm and get your plan mapped out perfectly with the Valentine's Day countdown calendar!
Know when to have your products ready
Get your photoshoots booked on time
Have a marketing calendar ready
Print out the PDF calendar for your wall or planner
Get email reminders of key milestones coming up
DONE-FOR-YOU EMAIL TEMPLATES
Build strong marketing foundations and cultivate loyal, repeat customers with your email newsletters.
Five written-for-you emails to send from pre-launch to last orders so that you can drive sales easily
What to send on which date - all completely planned for you to take away the stress and decision-making
Examples of what the final emails might look like to inspire you and make it easy to set them up in your email service provider of choice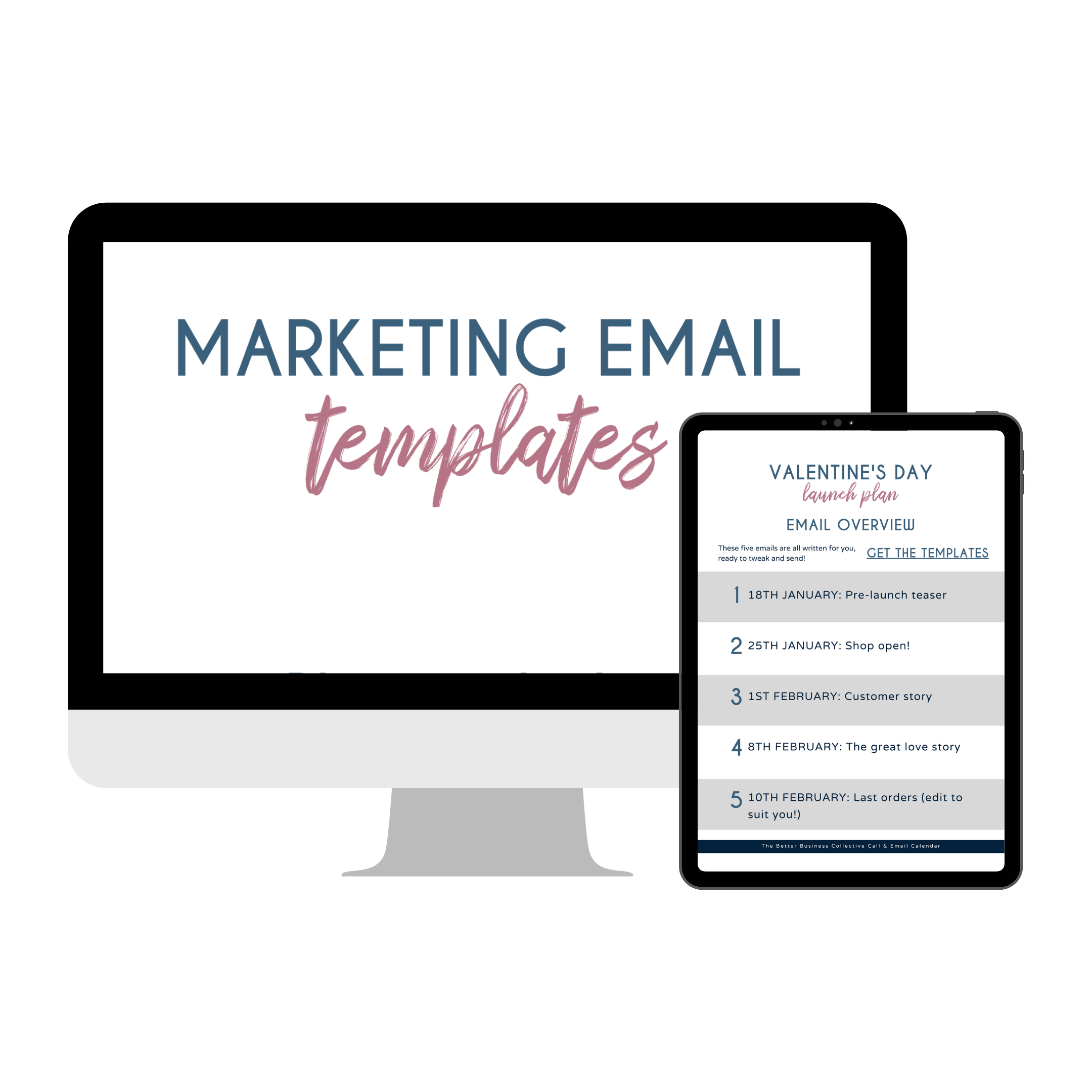 SOCIAL MEDIA CALENDAR AND TEMPLATES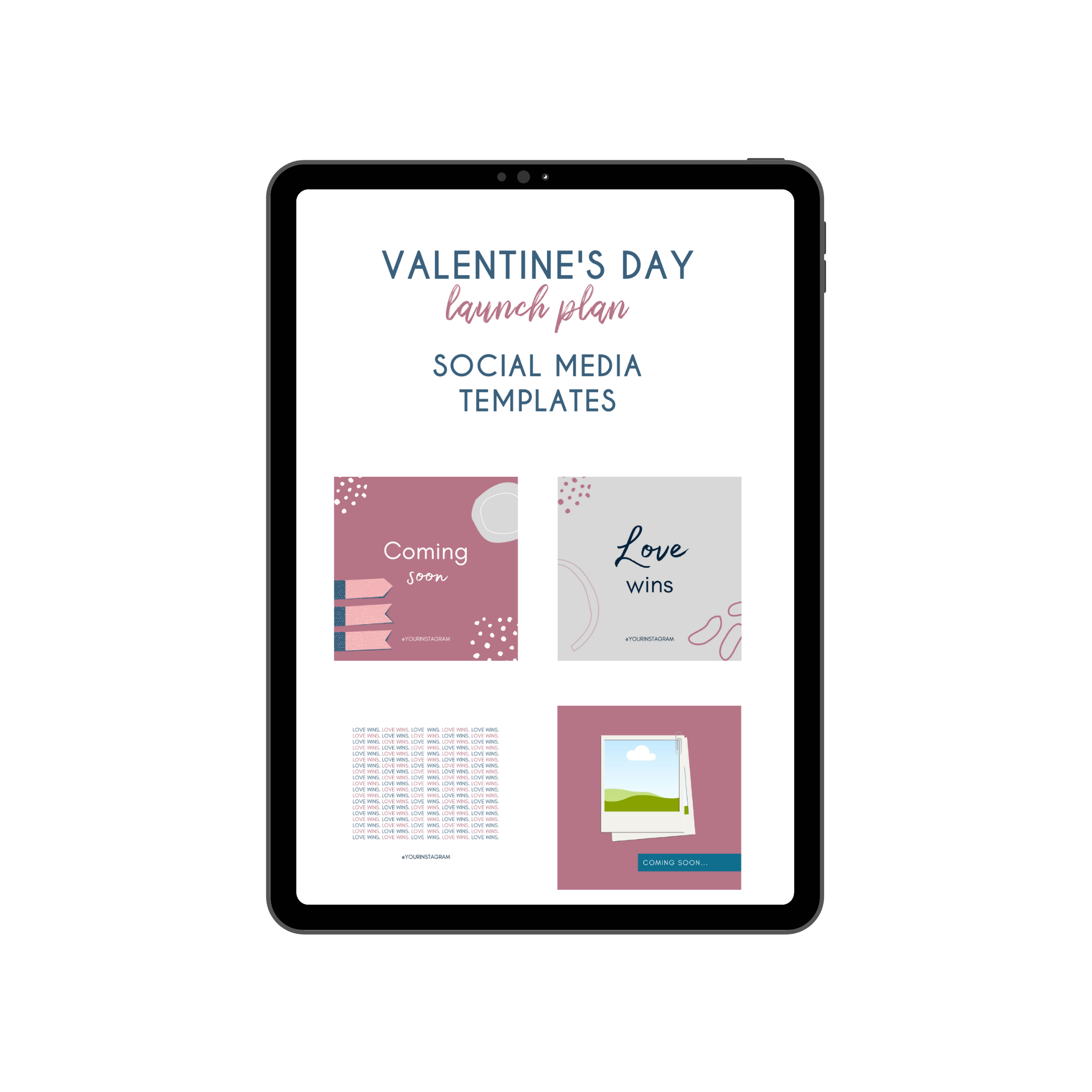 What to post? When to post it? How to make it all come together? I've got your back...
Use the calendar to schedule your posts from pre-launch to last orders so that you can generate engagement and sales throughout
Create your content easily with templates in Canva, which you can use for free to edit
Use the caption templates to remove that brain fog about what to write!
Templates include: pre-launch teaser posts, shop open posts, product features, customer review posts, love stories to tell (it is Valentine's Day, after all!), and last order posts
Create posts for Facebook, your Instagram feed, and Instagram Stories
Testimonials
"I love the checklists, the ideas to update things like the Facebook banner. These are things I "know I should" but always get shoved down the list and never done." Gilly, founder at ekawear and member of The Better Business Collective
"I cannot possibly recommend Jenny highly enough. I always come away from our sessions feeling ten times more confident!" Laura, founder Clara and Macy
"I have really enjoyed the course – it's given me motivation, confidence to have faith in what I'm doing and excitement about the possibilities. By developing my business plan it has given me the confidence to invest in some equipment as well, which will really help during the mid-long term to help me reach my goals." Mandy, Ellie Bea Jewellery
BONUS 1: WHAT WILL YOU SELL?
Before you can market successfully, you need great products - and you need them available in your online shop! This bonus helps you identify all the products you'll sell for Valentine's Day, with tips on price points and how to use stuff you already have.
There's also a content checklist to make sure you have all the photos and product descriptions of your products ready to rock.
I want you to start 2021 off really strong: feeling organised, getting the sales, and taking those bold steps to get ahead rather than staying in catch up.
Keep that momentum going with the 2021 launch calendar, with key dates and pre-launch periods for each major UK gifting occasion.
BONUS 2: 2021 LAUNCH CALENDAR FOR RETAIL
BONUS 3: REMINDER EMAILS FROM ME
Once you've got access to the course, the PDFs, the templates, and all the video guides, how do you stay accountable?
Enter ME: I'll email you regularly through January and February with reminders of what you need to get ready and by when. So you can totally go at your own pace, but with a fallback if you get stuck or overwhelmed.
BLACK FRIDAY BONUS: Sign up before midnight on Monday 30 November to get the January Planning Workshop (worth £49) for FREE!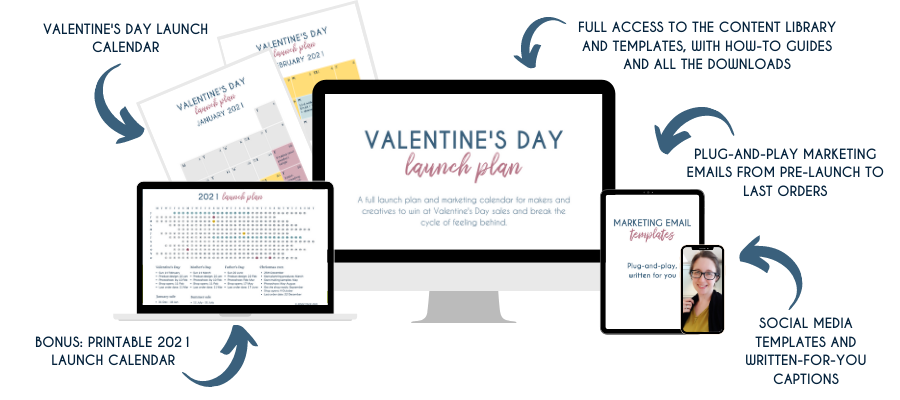 The Valentine's Day Launch Plan includes:
Your foolproof launch and marketing calendar, from product creation to shop open to last orders
Done-for-you email templates to send to your list so that you can cultivate your audience and generate sales
Social media calendar and templates to use on Facebook, Instagram and IG stories so you don't miss out on sales

BONUS: Guide to creating an enticing (and profitable) product range, with photoshoot checklist

BONUS: 2021 launch calendar for retail so that your strong start to the year continues

BONUS: Reminder emails to help you stay focused and organised up until Valentine's Day

BONUS: January sale email templates to use from 31 December to 11 January
Are you a Black business owner? I offer discounted rates on this course and other services as part of my Rising Stars scholarships initiative.
To get 25% off, please email me: jenny@thejennypace.com
If you have questions, please don't hesitate to get in touch. I'm learning all the time.
Testimonials
"So much amazing info to work through. I'm really enjoying the process. You've made it very enjoyable again!" Sophie, founder at Sustainable Stitches
"I'm filled to the brim with energy and inspiration having looked at where I am, where I want to be and how I'm going to get there." Gilly, founder at ekawear.com
Hey! I'm Jenny.
I guide creative founders and solopreneurs who are ready to transform their businesses and create the success they've been longing for.
I've been working with makers for over 10 years, and it can feel impossible to get ahead of the retail calendar. Gifting occasions creep up on you before you've had chance to recover from the last one!
Which is why I want to help you get ahead for 2021, with confidence and ease, even while you juggle Christmas orders. It will feel so good!
I'm slightly obsessed with email marketing for makers and online shops. It's secretly delivering so many sales to small businesses behind the scenes, where you can't see it happening - and I want you to get that same result.
This combination of forward planning, marketing strategy, and done-for-you tools is designed to give you a real boost towards that success you really want.
The Valentine's Day Launch Plan is right for you if:
You struggle to get your marketing content together ahead of time
You want to get ahead of the retail calendar and feel more organised going into 2021
You're ready to put some time and energy into forward planning
You already have an online shop - you can use it if you're just getting started, but this isn't a start from scratch guide
You have some sort of email list - I've had success with clients whose list is less than 100, so even a tiny list is good!
It's time to stop feeling behind. It's time to ditch overwhelm. It's time to stop doing it all by yourself.
Take the pressure OFF marketing your products and use your creative energy and precious time to create amazing new things - we need more of them in the world!
The Valentine's Day Launch Plan is specifically tailored to the 14th of February, but the principles (and templates) are ones you can use again and again, and tailor to your business and brand.
A reminder of everything you'll get
Your foolproof launch and marketing calendar, from product creation to shop open to last orders
Done-for-you email templates to send to your list so that you can cultivate your audience and generate sales
Social media calendar and templates to use on Facebook, Instagram and IG stories so you don't miss out on sales

BONUS: Guide to creating an enticing (and profitable) product range, with photoshoot checklist

BONUS: 2021 launch calendar for retail so that your strong start to the year continues

BONUS: Reminder emails to help you stay focused and organised up until Valentine's Day

BONUS: January sale email templates to use from 31 December to 11 January
Testimonials
"I'm filled to the brim with energy and inspiration having looked at where I am, where I want to be and how I'm going to get there." Gilly, founder at ekawear.com