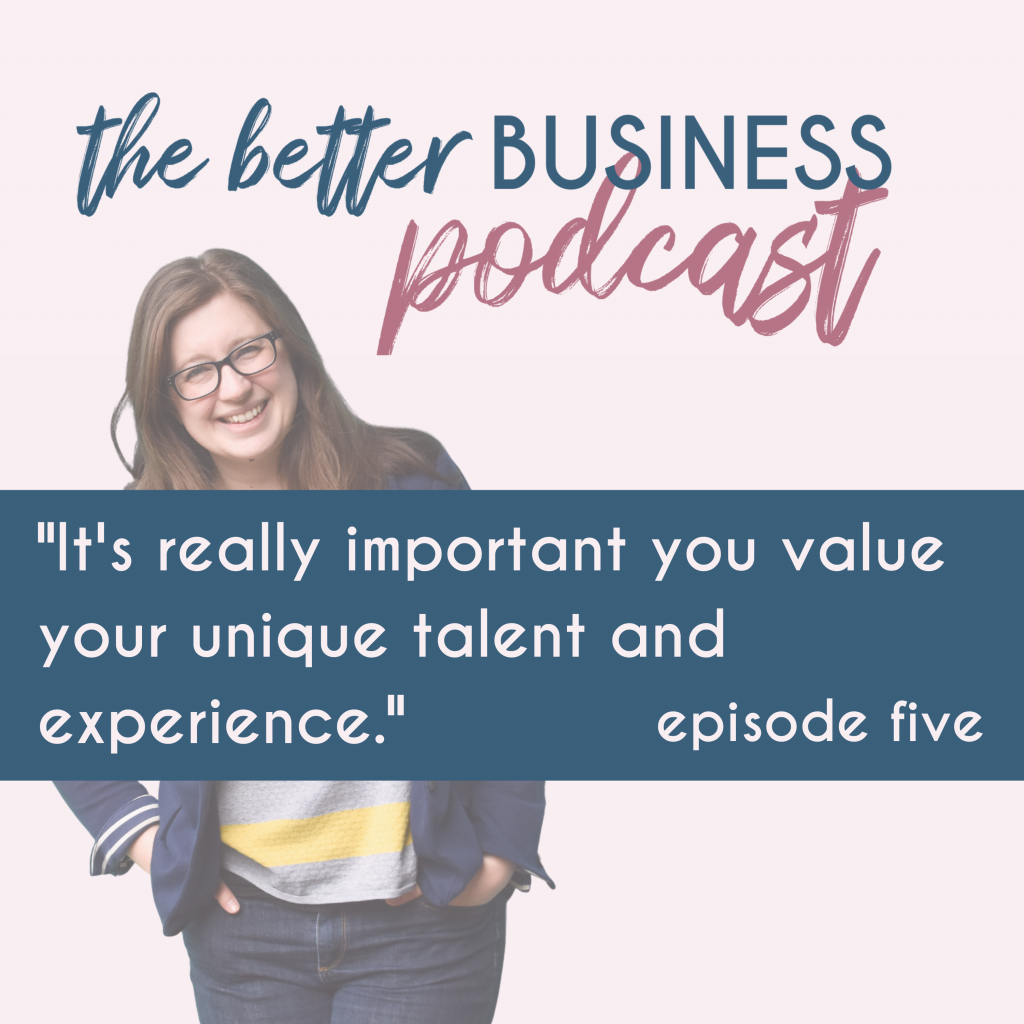 No matter what stage of business you're at, these three things will make a huge positive impact
After last week's episode, where we talked about shifting your marketing energy, this week I'm sharing some practical, game-changing habits for you to do regularly in your business.
1. Checking your numbers regularly.
I see you, avoiding looking at your bank account, sales figures, tax return, and open rates. I know it's vulnerable. I know it opens you up to feeling bad about your business, your ideas, and your self-worth. I've been there.
But it's soooooo worth getting courageous on this one!
What you need to do:
Here's what I recommend: choose 5-10 key numbers you're going to check each month, such as your turnover, your expenses, your profit margin, and a couple of key marketing numbers, like your email open rate or Instagram followers. Book a time in your calendar every month, and try to make it the same time and day, like the first Tuesday afternoon of the month.
Key action:
Make it enjoyable! If that means ordering "I'm a proper business lady" brownies or going to a local coffee shop, do it. You could meet up with a business bestie, take the afternoon off afterwards, or get yourself all cosied up with a candle, some good music, and a pot of tea in the studio.
Why it helps:
The reason checking your numbers regularly is a game-changer is that it gives you a whole load of accurate, up-to-date data on what's working on your business, and what's not. That data, in turn, helps you make smarter business decisions that are totally right for you.
2. Valuing your creative skills and talents
Hooooooo-eee. If I had a pound for every creative who undercharges, doesn't value their own skills, or doesn't prioritise their creative time, well, I would go on a nice fancy holiday!
You've been creative most of your life, and you're pretty damn good at illustration / graphic design / sewing / [insert your own talent here]. So you wouldn't pay someone else to create something like that for you – because you can do it yourself! But there are millions (billions?) of people across the globe who CAN'T create the way you can, but they want a home and life filled with creativity nonetheless.
The other part of not valuing your creativity is that you don't prioritise creative playtime. Your creativity is your greatest asset. It's the golden goose that will create income-generating designs for years to come. As long as you allow yourself to cultivate it and develop. If you can't remember the last time you had time to brainstorm, play with ideas, go to an inspiring art gallery, it's time for that to change.
What you need to do:
First, check your pricing. Are you charging in a way that values your time, energy, and talents? Chances are, you're not. (I typically tell 75% of new clients to put their prices up by 20%.) Plan a price increase and get courageous with it.
Key action:
Book design time into your week or month. I'm not kidding! Regular time to play with ideas (without the pressure of creating the next bestseller) is a HUGE investment in the future of your business. Make it a regular habit now, and you'll thank me later. (And please do – I like hearing it's paid off!)
Why it's important:
Oh boy, this one's not just important for you, it's a whole movement; it's important for society and our culture and our children and our future. Ultimately, this one's a mindset shift, as well as actions to take. But shifting that perspective will allow you to continue building a business that is profitable, sustainable, and a powerful force for good in the world.
3. Prioritising your time (and your to-do list).
Did you notice both the first two points included adding some time to your calendar? That wasn't a happy coincidence. Lots of creatives like going with the flow (me too!) and being in the mood to create (still me too), but we can also end up trying to do wayyyyyy too many things at once, without any of them paying off.
You can still have fun creative time (see above), but prioritising your time and to-do list is so worth doing, I'm tempted to march round right now and help you do it!
What to do:
Choose three or so goals to focus on. That means you're not trying to do a billion different projects all at once. Once you've set up your new website THEN you can get stuck into Facebook ads – just don't do both at once!
Key action:
With your goals in mind, you can prioritise your to-do list on a daily or weekly basis, so that your time is spent doing urgent and important things that are really going to make a difference.
Why it's important:
When you focus and prioritise, it's much easier to learn about what you're working on, and do it well. If you're just focusing on Instagram, rather than allllll the social channels, you can learn which hashtags work for you, you can get excited about creating content that people enjoy, and you can really get into the swing of making it work for you. Trying to juggle too many things leads to burnout, lack of enthusiasm, and big business disasters.
Stop avoiding these three key things!
I'm not saying these are the only things you need to do in order to get that thriving, sustainable, and meaningful business. But they are things creatives commonly avoid (at various levels), but that really unlock potential.
So maybe you'll just do one at a time, or maybe you're ready to get going with all three. If you do get started, let me know so that I can cheer you on!
And if you'd like some help, I thoroughly recommend checking out The Better Business Collective, the membership group for makers and solopreneurs ready to strengthen their business from the inside out. Membership opens next month, and waitlisters will get a special bonus when it opens!