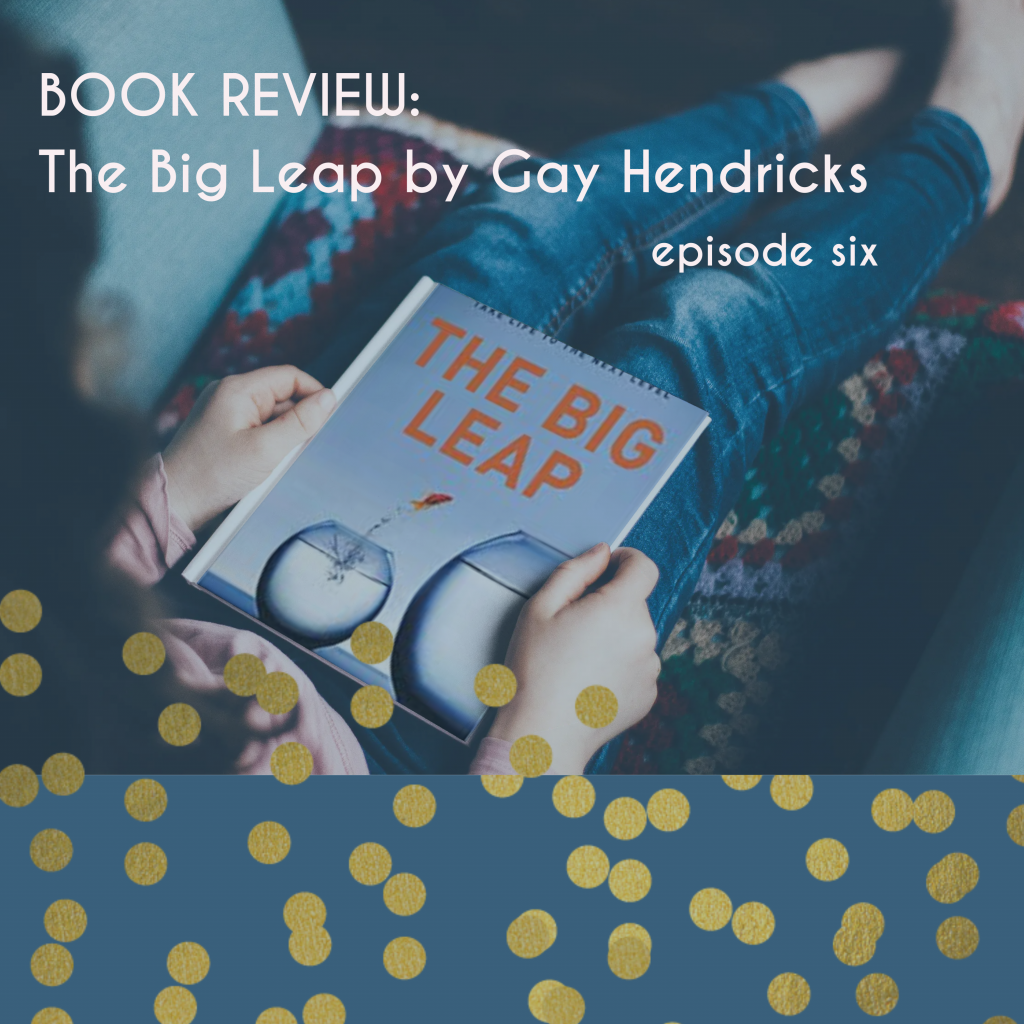 Introducing the Better Business Book Club, and The Big Leap
This week, I'm really excited to introduce a special part of the podcast: The Better Business Book Club.
I love books, and I recommend them to clients and community members all the time. When I was starting the podcast, I knew I wanted to include some of my most-recommended books with you, too.
These are books that have had a big impact on me and on my clients. They're the game-changers.
Some of them are classic business books, and others (like today's) are about self-development and self-knowledge. Personal development is such a huge part of running a business. As I shared in Episode 4, the energy we bring to our business is even more important than the specific strategies we use. So checking our beliefs and our outlook is vital.
The Big Leap by Gay Hendricks
This book is one I want everyone in business to read. It's also a book that can bring up a lot of resistance, as it did for me when it was first recommended. I spent years working up to reading this book, and I can see now that that was because I liked being in my comfort zone. A lot.
I often work with clients and we uncover the big vision they have for their business. There's a lot of clarity and enthusiasm and desire. But it can take a while to actually make it happen. That's when they need to read The Big Leap.
Key Idea #1: Upper Limit Problems
The first big idea in the book is the Upper Limit Problem. This is the idea that we have an internal thermostat for how much success we can allow, and we subconsciously sabotage ourselves so that we stay within that limit.
The thermostat is typically set in early childhood, and it takes awareness and work to change it.
When I first read about this, I felt like a lot of things clicked into place. I could see that a lot of the things I thought were in my way were internal. And I could also see a lot of these things were within my power to change.
Gay Hendricks asks these questions:
Am I willing to increase the amount of time every day that I feel good inside?
Am I willing to increase the amount of time that my whole life goes well?
Am I willing to feel good and have my life go well all the time?
Saying yes – really, truly – is the hardest and most important step we can take to dissolve our upper limit problems.
Chapter 3 in the book has lots of ways to spot your own Upper Limit Problems and how they show up. For example, worry, criticism and blame, squabbling, deflecting compliments and good things. And, from my own experience, under-charging for your products and services.
Key Idea #2: Zone of Genius
The framework Gay Hendricks introduces in this book is revolutionary, especially if you are a one-woman-band and doing everything yourself!
There are four "zones":
The Zone of Incompetence: we're pretty rubbish at these things, and there are lots of other people that do them better and quicker than us
The Zone of Competence: we can do these things, but we're not amazing at them. There are still other people who are better and quicker at them
The Zone of Excellence: we're really good at these things, but they're not our calling; we can usually make a good living at them, but we get stuck here
The Zone of Genius: this is our unique happy place! This is our calling, our gift, and we can do these things for a long time without getting bored or tired. The Zone of Genius is typically the key to unlocking happiness and abundance (aka money-making!).
I highly recommend going through your to-do list and putting different things in these zones. And when you read the book, there are lots of great ideas for uncovering your Zone of Genius.
A Caveat On Privilege
This book has so much to offer, but it's worth noting that Gay Hendricks is a white, straight, cisgender man from the USA. He's the least likely demographic to be refused power, money, or happiness through systemic and cultural challenges.
If you're a woman, Black, gay, disabled, or have a history of emotional or physical abuse, you may feel like there are a couple of chapters missing. It's entirely possible that Gay Hendricks could simply change his mind on the goodness he can receive, and then receive it. Others of us may have systemic racism, lack of power, and legitimate barriers to changing our circumstances.
I still believe this book has wisdom, but I wanted to share this perspective on the book's limitations.
I love this book!
I get something from The Big Leap every time I read it. And in reality, I want to be taking big leaps throughout my life, so I know it will be in my reading pile for a while.
If you're bumping on the same turnover for years, or if you get to where you wanted and disaster hits, this is the book for you.
Buy the book
You can buy the book via my Bookshop.org shop. This is a platform that supports independent booksellers, and I'll earn a small commission, so you can support the production of my podcast!
(You'll also spot some of my other book recommendations!