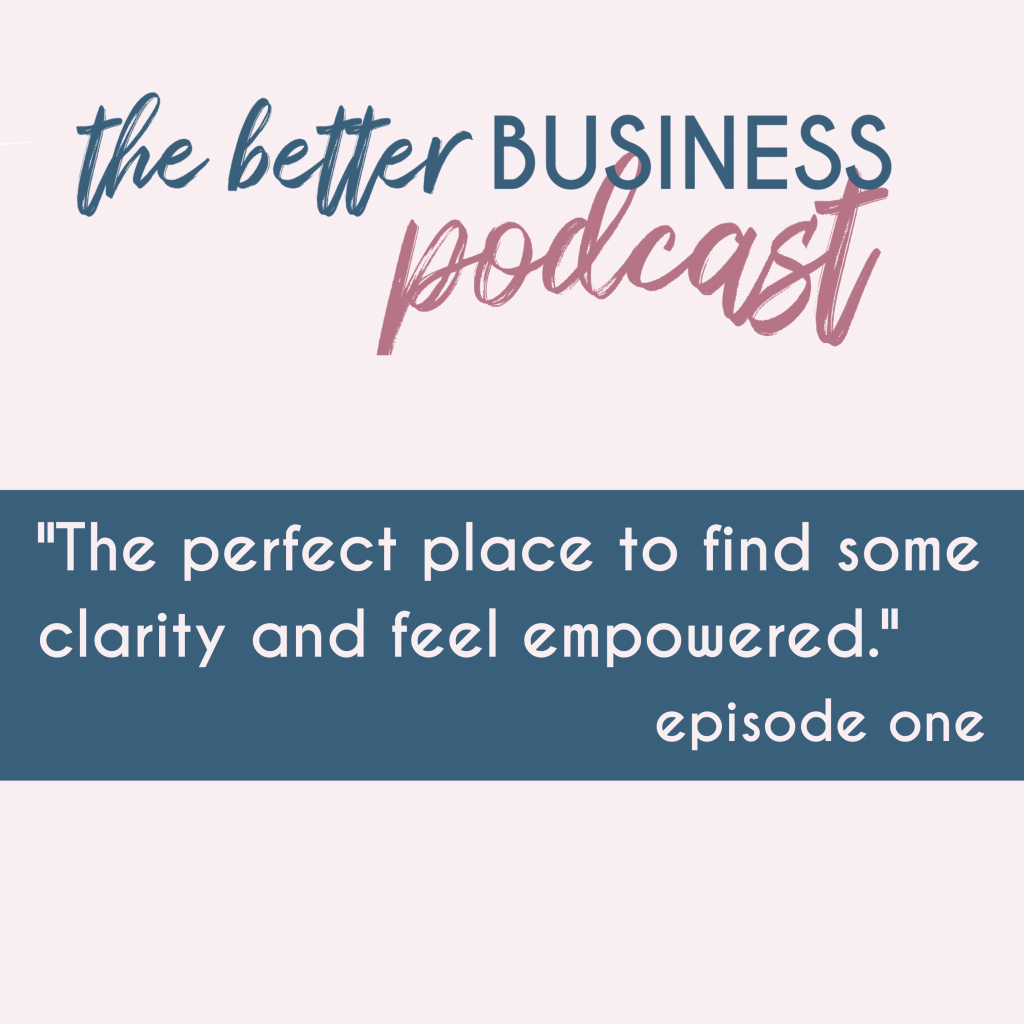 ---
Welcome to the Better Business Podcast
Like many of us, 2020 turned my life and my business around – some of it was good, some of it… less so. One thing that DID happen: I became obsessed with podcasts.
With a baby (and then a toddler) at home full time, podcasts gave me a way to stay connected to my purpose, my business, and the creative business community. They were a lifeline.
Knowing my clients faced similar issues – wanting to feel empowered, to strengthen their business, and yet feeling like time is scarce – I knew I wanted to create a platform we could use to connect with each other AND the ideas that will strengthen our businesses, whilst juggling busy lives as humans in business.
A place for you
The Better Business Podcast is a place for makers, creatives, solopreneurs, and female founders to discover different ways to forge your own definition of meaningful success, by balancing head and heart. I'll be sharing ways you can get to know yourself better – so that you can be a better business owner and leader – and savvy business strategy to empower you to create a future you're proud of.
My background is in product-based businesses, so if you're selling your physical creations, you're going to find plenty of tips, ideas, and strategies to strengthen and grow your business. And a lot of my strategies can be applied to all kinds of creative businesses, too. So if you're a photographer, artist, coach, VA, or designer, you can make yourself at home here.
The Better Business Book Club
I'm also a little bit book obsessed! So I'll be sharing the books I recommend to my clients and community members over and over again, in episodes for The Better Business Book Club. Once a month, I'll review a book I love, and I'll invite you to read along and share your thoughts and feedback.
You can expect weekly episodes on finding your focus, effective marketing, and how to be courageous as you forge the success you REALLY want. There will be interviews with brilliant business women, and there'll be times I share encouragement and inspiration talking directly with you.
If you find yourself a little lost in business, perhaps stuck in procrastination and overwhelm, the Better Business Podcast is the perfect place to find some clarity, discover what's true for you, and feel empowered to take action in the right direction.
You can find out more about me right here, and you can subscribe to this podcast now, invite your friends, and get ready to take courageous steps into the future.