Here we are at the end of June, a thousand miles from where we thought we'd be at the beginning of the year, not least due to COVID-19. Things are changing often, and as things start to re-open, we're entering a grey area that can be tricky to navigate. We're not in full lockdown, so things aren't as clear as "Stay Home", and yet we're not "back to normal" either…
So let's declare Business As Newsual, and give our customers something they're really craving: clarity.
Now is a great time to update your customers via a newsletter, blog, or series of Instagram posts and stories (Facebook, too), so that they know exactly what YOU'RE offering, and what they can expect.
Whether you're changing your offering, still running with some restrictions, or opening up fully, you can create a clear (and exciting) update via social media, email, or in your shop window.
Here's what you can share, plus some handy resources:
What are you currently offering?
Things have changed a lot over the last few months, and some businesses have stopped selling, some have had a reduced range, and others have been cracking on with their usual stuff.
Clarity is everything, so let your customers know explicitly (and simply) what they can get from you right now, even if that's "everything" and even if it'll change later (more on that in a minute).
For example:
Our shop is still fully open, and we're looking forward to adding some exciting new designs very soon!
You can buy print-at-home digital downloads, including my bestselling Yes We Can print, on my website right now, and I have a range of cards available on Thortful, who are brilliant at printing and sending directly to the recipient.
We're still running a slightly reduced range of bestselling biscuits while we have a reduced staff. But that's still over 16 different biscuit gift boxes to choose from, including the Birthday Box, the Anniversary Hamper, and the Family Friday Treat Collection!
Are you taking any special measures?
If you're still socially distancing in the studio, or doing some extra cleaning, or using different packaging than usual, let your customers know.
While we're reopening, it's helpful to reassure customers that you're taking care of them (and yourself / your staff). If things still look a little different than "normal", let them know what to expect. Again, clarity is everything!
For example:
Our team is working hard to prepare your orders carefully, and we'll still be running on a socially distanced timetable so there aren't too many people in the studio at once. We love being all together, but right now, we want to keep everyone safe (and not make it socially awkward).
Because I've been shielding, I'm still only offering digital downloads to protect my own health. Over the coming weeks, I'll be preparing my workspace and my product range so that I can get cracking with posting out orders again!
Our kitchen is always in tip-top shape, but we've added in some extra precautions, like face coverings and a different packing system so that your order is made and packed by one person from start to finish. You won't notice anything different in the finished product, and we're always committed to a nice clean kitchen.
How to order
I know, I know, it sounds obvious. And you've probably got a link in your profile to your website, maybe you've even got Instagram shopping set up.
EVEN SO let customers know how they can order, whether that's through your website, through a marketplace, or sending you an email / message.
Anything you can do to make ordering easy and effective is so helpful! We've all got a lot on our minds, so make buying that gift / pick-me-up / essential treat really easy.
For example:
You can order via our website, on Notonthehighstreet, on Etsy, or even by emailing us on hello@reallycoolshop.com. Let's get those gifts sorted (or those treats for yourself…)
Hop over to my site to get your instant digital downloads, plus instructions of how to print them at home. And of course you can go to my page on Thortful to order your next round of birthday cards!
Order beautifully baked biscuit gifts on our website, where you can choose from 16 collections.
What to expect
What are your current lead times? How are you sending out parcels? Will customers get email confirmations and updates?
Answering these questions adds a whole load of confidence when ordering from you. You don't have to explain every step, just keep it simple and clear.
If there's anything else customers need to know, or would find helpful, share that too!
For example:
We process all orders placed by 2pm on the same day. Our standard shipping to the UK is Royal Mail 2nd Class, which typically takes 3-7 days. You can upgrade to 1st Class Signed For if you've got something urgent. Feel free to get in touch if you have any questions about timing.
Once you've ordered your digital download, you'll get an email with the files (including instructions). Don't forget to check your spam folder! If you haven't received an email within 24 hours, please email hello@brilliantdesigner.com.
We post out our biscuits three times a week. Order by midnight on Sunday for Monday dispatch (typically delivered on Tuesday or Wednesday), midnight on Tuesday for Wednesday dispatch (typically delivered on Thursday or Friday), and midnight on Thursday for Friday dispatch (typically delivered on Saturday or Monday). If you'd like to order ahead for a specific date, you can do this at checkout. We'll keep you updated on your order the whole way through, and you can track your order, too.
Your next update
If things look like they'll change again (for example, in July), let customers know.
Perhaps you'll be opening up workshop bookings, or adding your whole range back to the shop. Give customers a date when you'll next have an update so that they can check back or expect another email from you.
(And bonus points for creating a waiting list they can opt in to!)
For example:
Our new range is coming in July! New designs are in the workshop as we speak. Sign up to our newsletter to be the first to know.
I'll be opening up my online shop and Autumn workshops at the end of July, so keep your eyes peeled for more information! If you'd like to be the first to know, sign up here.
We'll be reviewing our kitchen safety measures every month, and we hope to reintroduce some more biscuit collections (and some new things too!) by September. If you'd like to stay informed, please sign up to our newsletter.
How to share this information
If you have an active email list (i.e. you send emails semi-regularly), email your people! Use the structure and examples above as a starting point, and add your own flavour and details.
If you post on social media, share an update post (or a series of posts) in your Instagram feed or Stories, or on Facebook. I've created some templates to make this easier for you: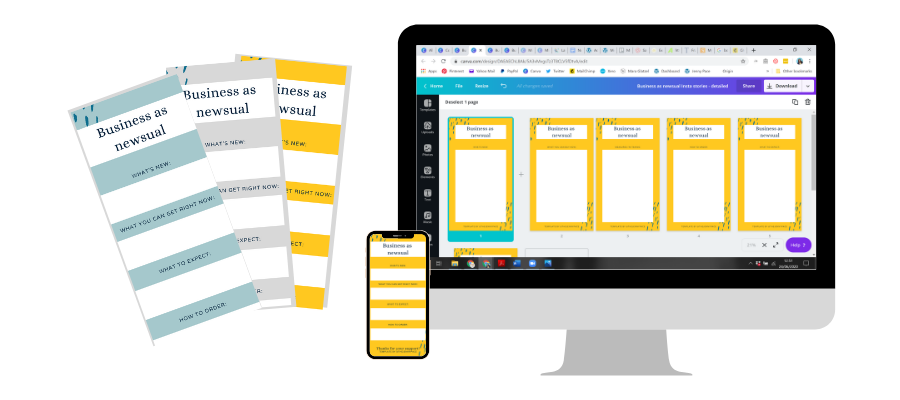 Some things to remember
Keep it really simple! Clarity is key. Don't overwhelm your customer, just give them what they need to know.
Anyone who has been waiting for an order, has pre-ordered, or placed a big order with you deserves a great big thank you! Write a note or an email – let them know how much it means to you.
If you do collect email addresses for those interested in future launches or news, don't forget to email them. It doesn't have to be complicated, just a quick "It's ready!" is enough.
More resources
You might like my free COVID-19 workbook, or even my latest course, Create Your Mini Business Plan, available on its own or with a strategic coaching session.