Create a mini business plan that helps you survive and thrive in the next three to six months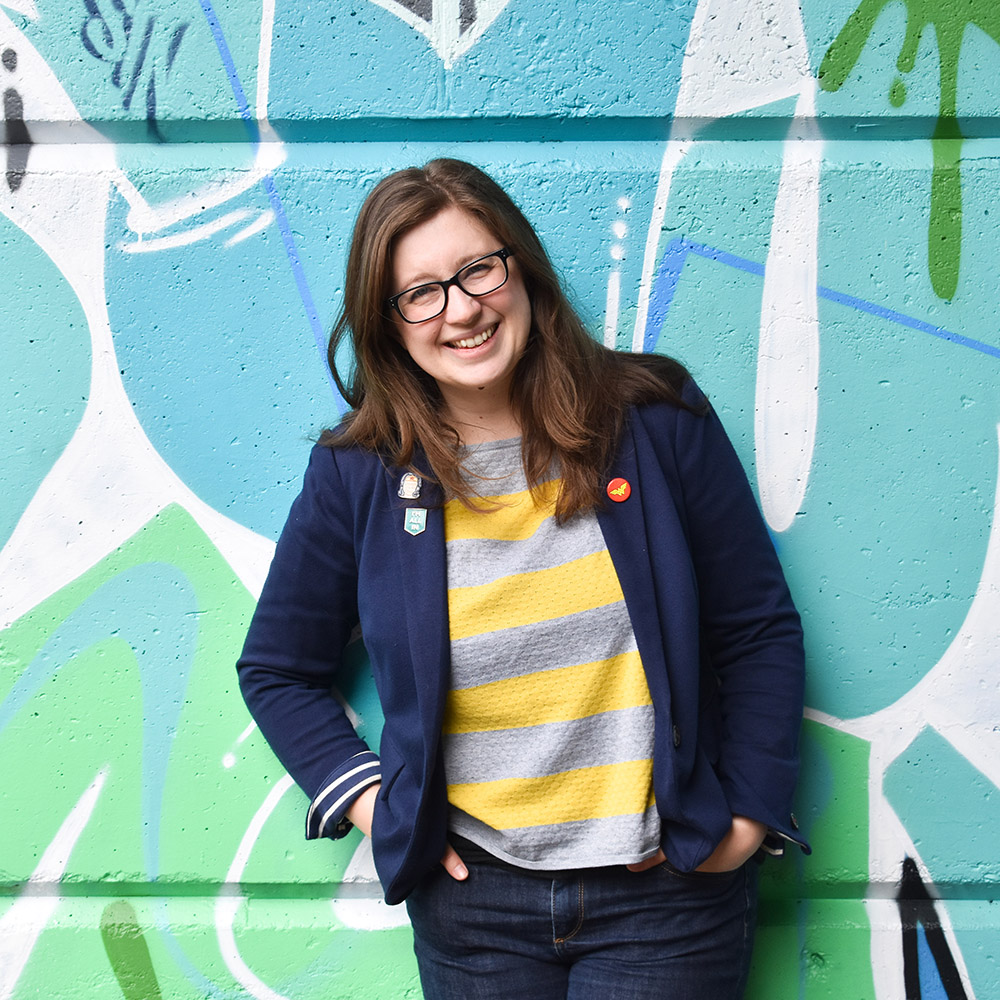 Create Your Mini Business Plan is an inspiring and actionable guide to prioritising your to-do list and taking your business to the next level.
Does this sound familiar?
You know that you need to address your to-do list and get serious about your business, but you don't really know where to start. You're constantly changing your mind or reading different advice about what to do to earn more, and you end up not getting anywhere.
But you also have a creative vision, a spark that you can't shake off. You know, deep down, what you want more of and less of, if you could just articulate it and stick to a plan…
You can't afford to hire an experienced business coach (I get it), but you really need some expertise and guidance to take the next steps.
To go from epic to-do lists to a clear, actionable plan?
To make three easy lists that bring you clarity and focus?
To be guided through goal-setting and accountability so that you have the next three to six months all lined up?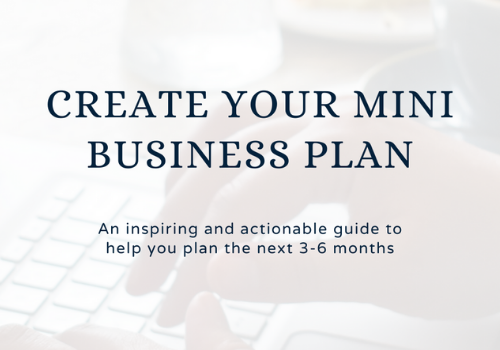 Testimonials
"I'm finding the course so helpful. I have too many things I want to do and nowhere near enough time. This has really helped me focus on three things and still have those other ideas on a back burner for later in the year." Kathryn, founder at Lillipopo Sketches
"To be honest, I thought this was too simple to work. This list has just changed everything!" - Wendy, founder Red Brick Glass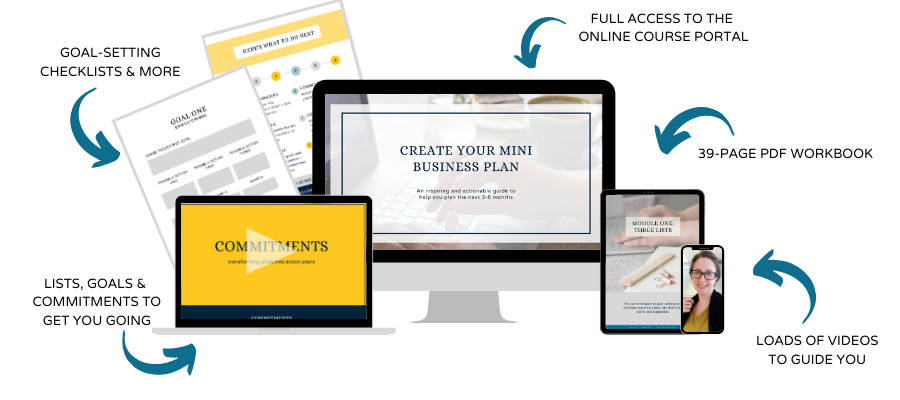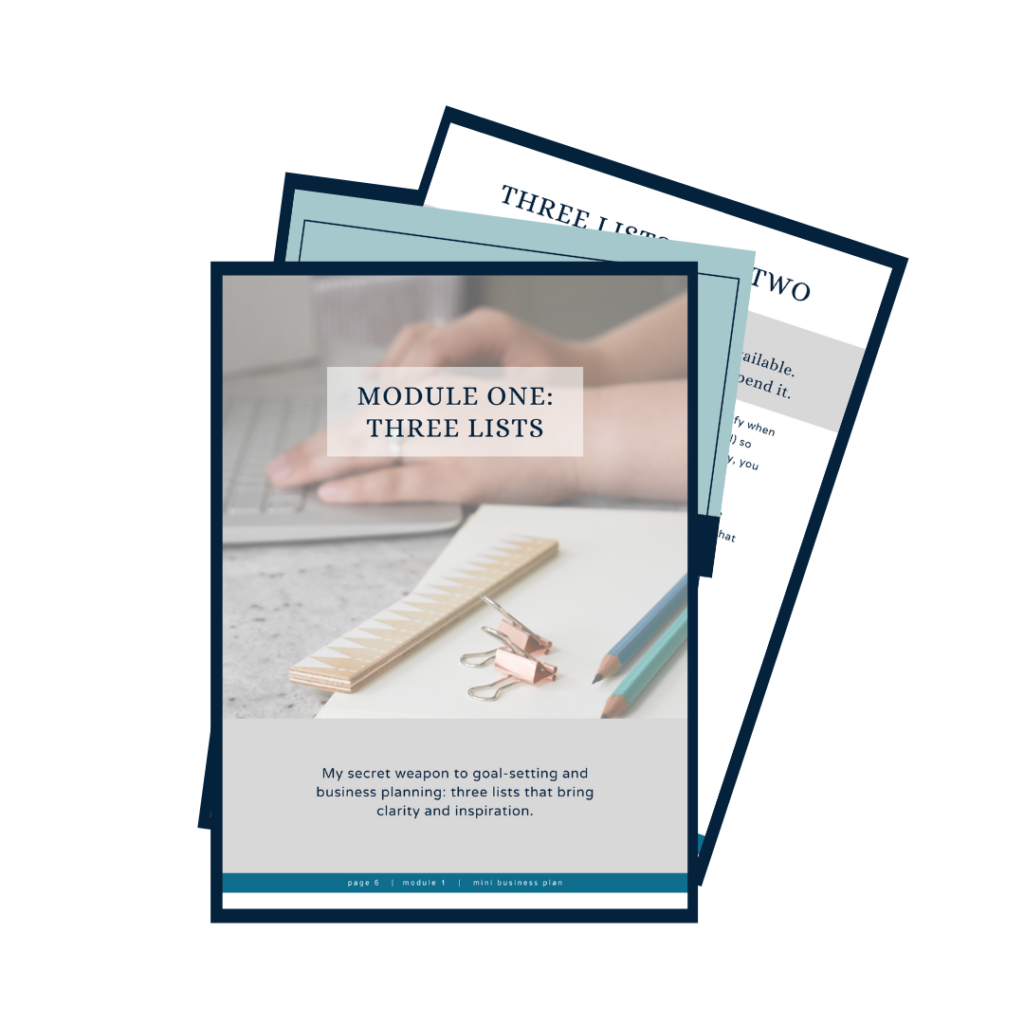 Complete three game-changing lists to discover the most important things to the future of your business.
Use these time-tested tricks to uncover the basis for your powerful business plan.
Download the 39-page workbook with the lists ready to complete

Watch three inspiring video lessons to help you write your lists

Use these deceptively simple techniques to gain clarity
MODULE 2: GOALS & COMMITMENTS
Follow my process to create clear goals and commitments that work for you, and become the focus of your business plan.
I'll share my decision-making formula to help you analyse your most effective next actions.
Use the workbook with step-by-step goal-setting template

Watch the video to help guide you through prioritising your goals
Brainstorm possible actions to take before analysing the risks, costs and benefits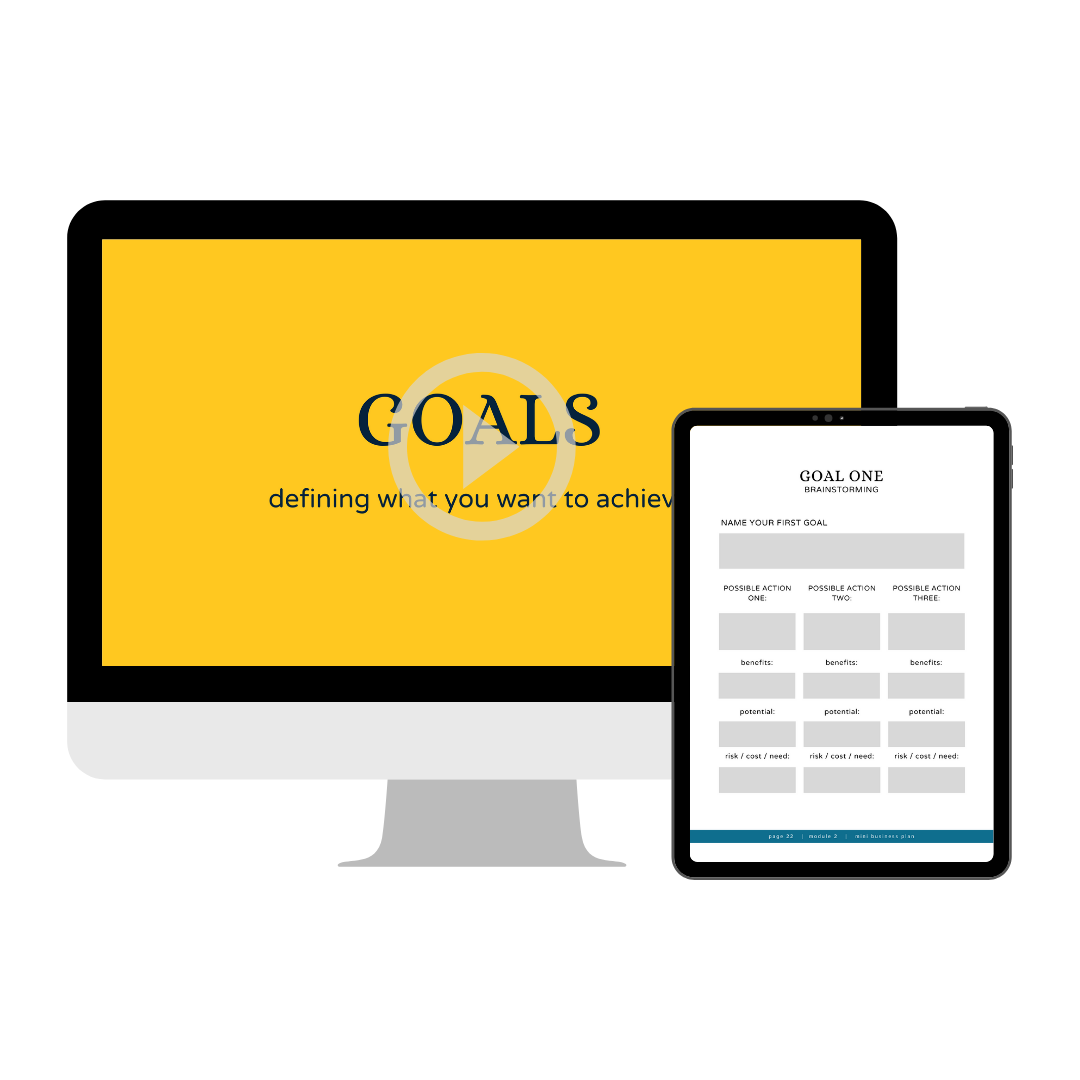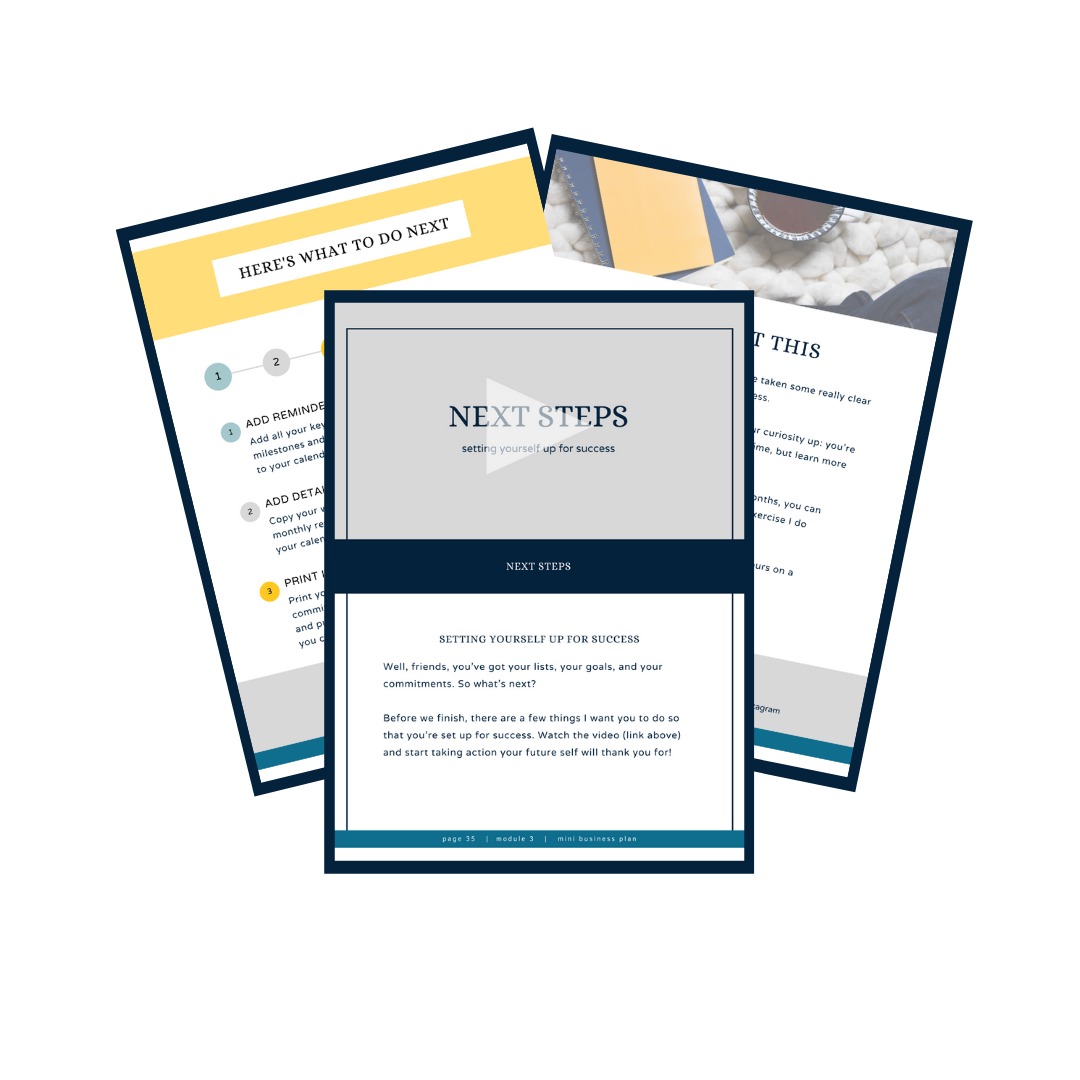 Together, we'll set you up for success with reminders, accountability, and additional resources to make the next 3-6 months successful for you.
Use the checklist to set up your important reminders

Connect with me via email to get accountability and encouragement
Receive regular email check-ins to keep you on track and get support
Testimonials
"I have really enjoyed the course – it's given me motivation, confidence to have faith in what I'm doing and excitement about the possibilities. By developing my business plan it has given me the confidence to invest in some equipment as well, which will really help during the mid-long term to help me reach my goals." Mandy, Ellie Bea Jewellery
"I cannot possibly recommend Jenny highly enough. I always come away from our sessions feeling ten times more confident!" Laura, founder Clara and Macy
BONUS 1: THE COVID-19 PERSPECTIVE
Download extra special resources to help you navigate challenging and uncertain times.
From tips to money-generating ideas, this bonus is a real boost to your planning in 2020.
Get inspired with example business plans for three different businesses. They'll give you ideas and references for how to complete your own mini business plan.
BONUS 2: EXAMPLE BUSINESS PLANS
BONUS 3: TRELLO BOARD TEMPLATES
Get my Trello board templates to keep track of your progress digitally.
FINAL BONUS: Access to three live workshop recordings, including a two-part workshop to take you through the entire course in two hours.
FOR ONLY £23 or £225 with coaching session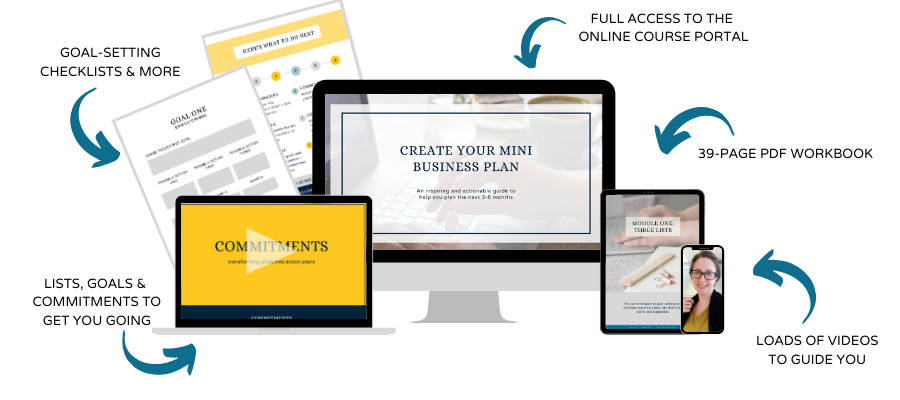 Create Your Mini Business Plan includes:
24-page workbook with your business plan template

Five detailed video lessons to guide you through setting up your business plan

Checklist for creating your next steps and accountability

BONUS: COVID-19 specialised support download

BONUS: example business plans for you to reference

BONUS: Trello templates to use for 3-6 months

BONUS: recording of the live workshop and Q&A session
Are you a Black business owner? I offer discounted rates on this course and other services as part of my Rising Stars scholarships initiative.
To get 25% off, please email me: jenny@thejennypace.com
If you have questions, please don't hesitate to get in touch. I'm learning all the time.
Testimonials
"So much amazing info to work through. I'm really enjoying the process. You've made it very enjoyable again!" Sophie, founder at Sustainable Stitches
"I'm filled to the brim with energy and inspiration having looked at where I am, where I want to be and how I'm going to get there." Gilly, founder at ekawear.com
Hey! I'm Jenny.
I guide creative founders and solopreneurs who are ready to transform their businesses and create the success they've been longing for.
I've coached hundreds of small business owners through prioritising their to-do lists and creating plans that are REALLY going to work for them.
This Mini Business Plan is a powerful stepping stone to figuring out what's going to propel your business forward over the next three to six months.
It includes concepts I've previously only shared on my retreats and in my one-on-one coaching, which each cost £750+. Now, I'm sharing key questions and concepts, as well as a step-by-step guide to help you get clear on what you're going to do next.
Create Your Mini Business Plan is right for you if:
You're ready to commit to doing the right things for YOUR business

You're done with procrastination and too many things to do

You want your business to survive and thrive in the next 3-6 months

You love getting inspired and can't wait to take action!
In just three to six months you could have a business that's not only surviving, but thriving.
When you take Create Your Own Mini Business Plan, you get resources to help you narrow your focus on the things that are going to make a real difference to your business. And then you have everything you need to take action and make it happen.
A reminder of everything you'll get
24-page workbook with your business plan template

Five detailed video lessons to guide you through setting up your business plan

Checklist for creating your next steps and accountability

BONUS: COVID-19 specialised support download

BONUS: example business plans for you to reference

BONUS: Trello templates to use for 3-6 months

BONUS: workshop recording
Testimonials
"I'm filled to the brim with energy and inspiration having looked at where I am, where I want to be and how I'm going to get there." Gilly, founder at ekawear.com