The start of the month is a great time to bring some intention to your business – and especially to boost your business energy. These 10 simple tips are great ways to energise your business and feel good while you're running a creative business this month.
If you're a small business owner, chances are you easily find yourself on the hamster wheel of your to-do list, responding to enquiries and orders as they come in. The bigger business strategy can fall behind! However, having simple steps to work through can make a huge difference.
Even if you don't do a full plan for the month or the quarter, I have some tips that will help you to bring in some fresh energy in the month ahead…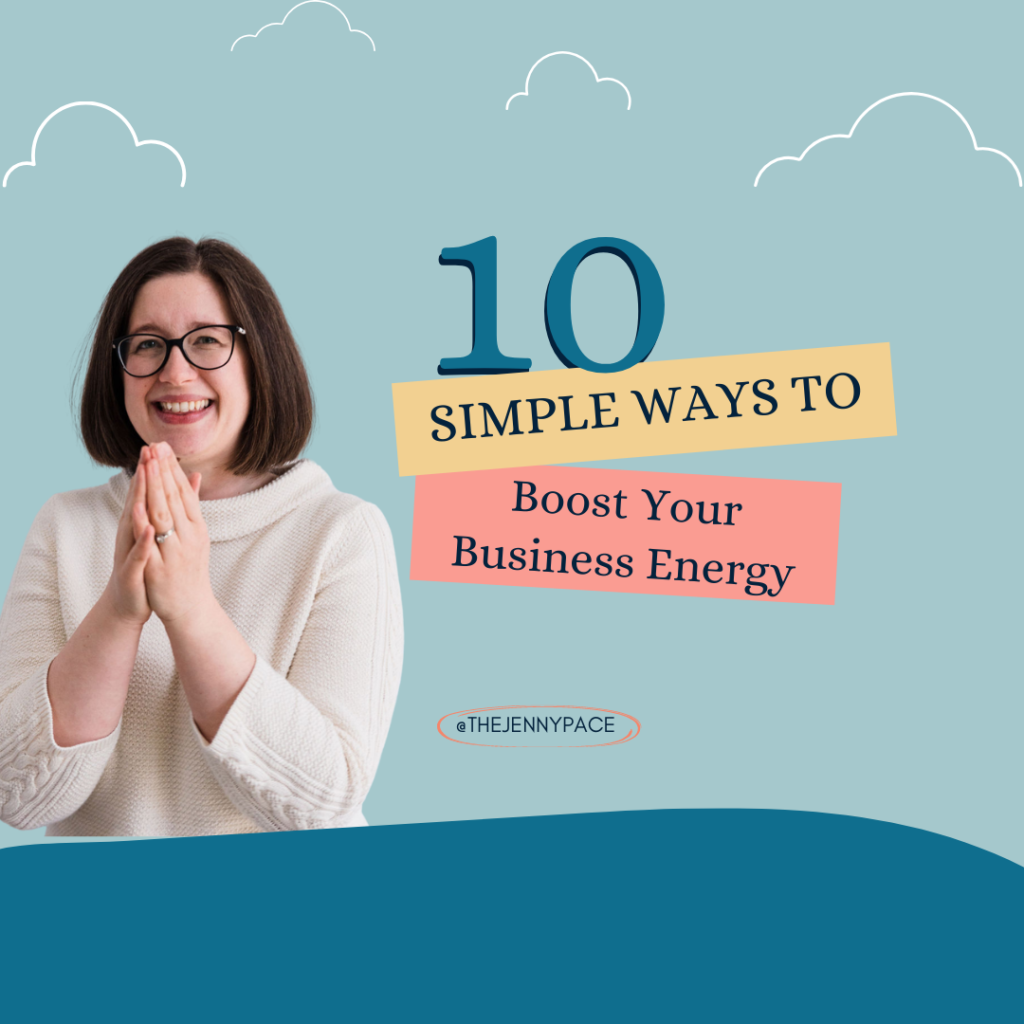 10 Business Tips To Boost Your Business Energy In April:
Refresh your homepage. Does it reflect your current bestsellers, offerings, and energy? Rather than a chore of technology, imagine you're tinkering with a real-life shop window. What would you put on display? Let your online equivalent reflect that spirit.
Check your Instagram bio. Could it share more authentically about your creativity? Are the links up to date and useful? Does it articulate your value? I've had "update highlights" in the back of my mind for a while, and I'm determined that this will be the month for it!
Have a gorgeous Money Date with your business. Invite yourself to coffee and cake (or whatever tickles your fancy) and catch up on your bookkeeping and cash flow. This is something creatives procrastinate, so make it enjoyable!
While we're at it, get ahead with your tax return (if you complete a UK self-assessment). You'll feel really smug if you get this done early, and your cash flow planning will thank you later. If in doubt, hire an accountant to help.
Plan a creative outing with yourself or a friend. Visit an art gallery, take a day trip somewhere, or even book a class! Cultivating creativity ultimately fuels your business, so it's highly recommended.
Invest in a pretty wall planner that inspires you. Betsy Benn has one that starts every quarter, so there's no wasted space.
Choose ONE marketing channel to focus on this month. Instagram (especially Reels) can be great for visibility; email marketing typically converts to sales at a higher rate.
Check your profit margins (and put your prices up!). There's no denying that costs are rising, so make sure you're not caught out. My profit calculator spreadsheet is now available for just £22, making it a wise investment that pays off.
Have a spring clean. "Outer order, inner calm," says Gretchen Rubin. She's right, and yet I'm still allergic to decluttering. Taking 15 minutes to clear my desk is manageable and effective. Do that weekly and you'll see a big difference.
Choose 2 or 3 pick-me-ups to raise your spirits this month. Try a new blend of tea or coffee. Buy yourself flowers for your studio. Order cake for 3 weeks' time and be surprised when they arrive (Jess makes great options). Enjoy an inspiring book (Austin Kleon's Steal Like An Artist has a gorgeous 10th anniversary edition, and it's easy to just read one page). Try a new essential oil roller (I love the chakra range by Eve & Keel).
This isn't a perfectionist to-do list.
You don't have to do every single one of these things to boost your business. One is great!
Above all, listen to your own inner wisdom: I'm pretty sure there are things you know will benefit you, too.
What are your favourite ways to boost your business energy? I'd love to hear!