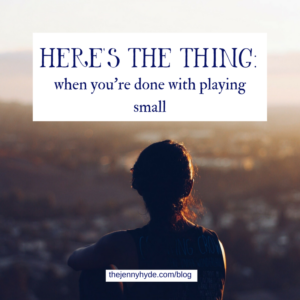 Some time last year, something switched for me. I decided to play bigger – with Copper Boom Studio, with my life, with my dreams.
I worked hard and I made big choices to rent a commercial space, to employ staff, to take on debt. Somewhere in there, I got overwhelmed. Understandable, right? After a huge expansion often comes a contraction. We stick our heads above the parapet, and then we want to duck back to safety again.
So December and January were very much about safety – keeping it quiet and small and manageable.
And then at the end of January, after I'd finished my second retreat weekend of the year, I was sat in a small tea shop with my dear friend Kelly, and it hit me: I'm done with playing small.
You see, after the expansion and contraction, you wait a bit. And the next wave comes.
I'm at the beginning of the next wave of playing big.
And this year, with pace as my guiding word and plenty of personal projects going on as well (a wedding, a home), playing big feels even more powerful. It feels more permanent, more manageable because it's contained in this idea of finding a sustainable pace.
The feeling when I sat in that tea shop was one of quiet determination, and of clear boundaries.
I'm done with fighting the battles that aren't mine.
I'm done with saying yes when I mean no. (More on that soon.)
I'm done with worrying all the time. I'll still worry, but how about it isn't the default?
I'm done with people pleasing so that I don't even know what's right for me anymore.
I'm done with hiding.
I'm done with fearing that it won't work – I'm determined to make it happen.
So here's the thing:
I know that being done with worry and fear and bullshit doesn't mean that all magically goes away. So I'm not here to tell you that it will!
But what I do know is that making small changes, taking small steps towards upholding boundaries and getting more organised (something I've been neglecting in the huge growth periods) is doable and will help me to move past fear, worry and struggle.
For me, there's a specific feeling in my body. It feels like focus, like I did when I stepped on stage with a saxophone in my hand to play in front of hundreds of people at school. (True story.) It feels like energy, but in a calm way, rather than chaotic freaking out energy.
Kelly said she could see it in my eyes, and I can feel it now, too.
So, what's true for you? Are you in expansion or contraction right now?
Have you had a phase in your life when you felt like you were just done?
What are you done with now? What are you ready to release?
What are you ready to embrace instead?
What practical steps will you take to move forward towards your dreams (and away from fear)?
I'd love to hear!
Jx
PS Achievable Dreams, my monthly in-person workshops to help you play bigger in a manageable way, are now open for earlybird tickets – just £45 and payable in two installments.