The perfect way to get (re)started with email marketing
Ready to get more confident about marketing your products?
Get started (or re-started) with email newsletters using my FREE cheat sheet, featuring 30 email subject lines (and content ideas) tailored to makers and creative solopreneurs.
You'll be sending out powerful, engaging emails in no time!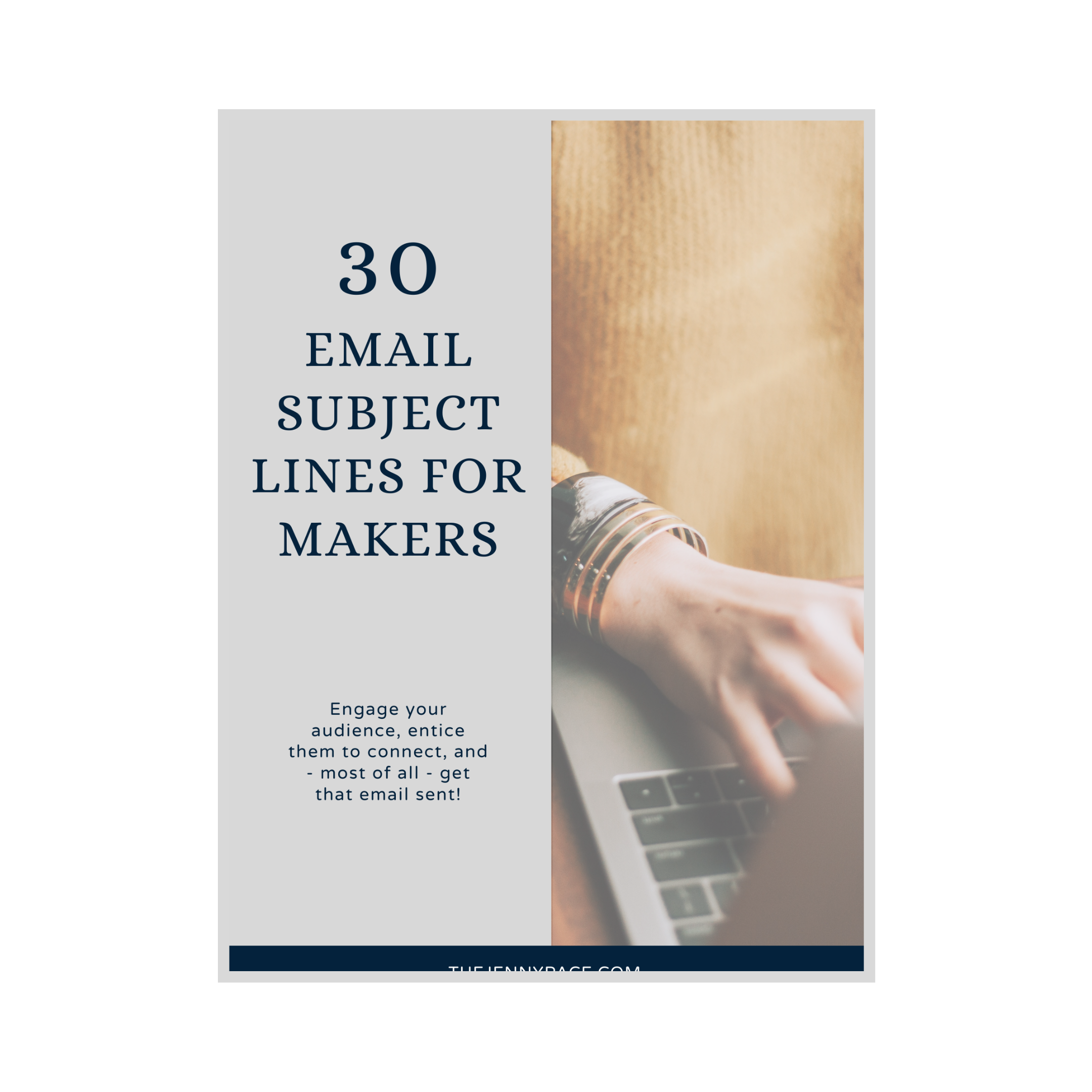 Stop feeling overwhelmed, and start feeling EXCITED about sending out your next email!
Lose your "But what should I SAY????" attitude and start serving up delightful stories and inspiration.
Start welcoming in SALES - one client had her first order within five minutes of sending out her first email in MONTHS!
Feel more confident in your business and your future by tapping into a resource that's waiting for you to make the most of it.
Get that Proper Business Owner glow - you're building strong marketing foundations that will last for years to come!
Testimonials
"I just opened the download and it is pure GOLD! Thank you." Laura
20 email subject lines you can use straight away
10 email subject lines to add your brand personality to
All tailored for product-based businesses - perfect for makers and creative solopreneurs!
Loads of content ideas for you to get creative with
My support: send me the emails you create!
Sending regular emails increases your brand awareness, customer loyalty, and sales. Doesn't that all sound wonderful?
Hi! I'm Jenny,
a business coach supporting creative female founders who are ready for change.
One of the strategic marketing tools I get really enthused (read: obsessive) about is email. There are so many ways for makers and creative entrepreneurs to use social media, marketplaces, and apps that DON'T allow you full ownership of your customers. Email is entirely yours, incredibly versatile, and creates loyal repeat customers.
This guide is one powerful dose of inspiration to get you taking action towards the savviest business marketing strategy.